Discovering Dubai with your family is an enchanting adventure, filled with captivating experiences that create cherished memories. The city's array of family-friendly attractions ensures that every moment spent together is a treasure. The Dubai Frame stands as a testament to architectural marvels, offering panoramic vistas that weave together old-world charm and modern splendor. A journey to Dubai Miracle Garden leads to a whimsical floral wonderland, where vibrant colors and intricate designs captivate all ages.
For a splash of excitement, Aquaventure Waterpark at Atlantis, The Palm, promises a day of shared thrills, while the Dubai Aquarium & Underwater Zoo offers an immersive glimpse into marine marvels. KidZania Dubai sparks children's creativity through real-world role play, fostering essential life skills. Dubai Parks and Resorts, a colossal entertainment destination, caters to diverse interests, and Wild Wadi Waterpark offers aquatic adventures near the iconic Burj Al Arab.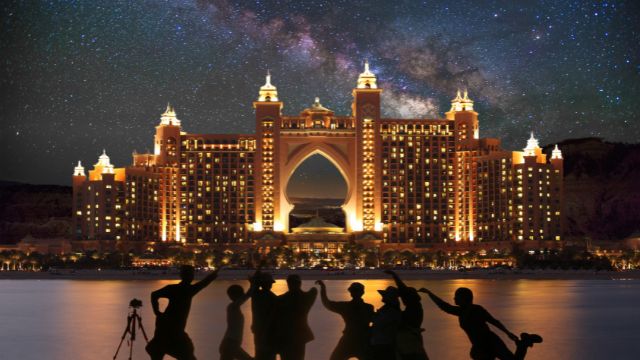 Global Village showcases cultures from around the world, blending education with entertainment, while Dubai Creek offers a glimpse into the city's heritage. Lastly, the Dubai Desert Safari whisks families away to golden dunes for heart-pounding adventures and serene moments under starlit skies. Dubai's family attractions are a tapestry of joy, bonding, and discovery, painting an unforgettable portrait of togetherness.
1. Dubai Frame: A visit to Dubai Frame with family promises an unforgettable experience. Standing tall as an architectural marvel, the Dubai Frame offers a unique blend of history and modernity. As you step onto the sky deck, a breathtaking panorama unfolds before you – the old-world charm of Deira and Bur Dubai on one side, and the stunning skyscrapers of Downtown Dubai on the other. This journey through time is enriched when shared with loved ones, making it a must-visit family destination. The Dubai Frame offers not just views, but a chance to create cherished memories together against the backdrop of Dubai's remarkable transformation
2. Dubai Miracle Garden: Embarking on a family visit to Dubai Miracle Garden is a journey into a floral wonderland. Bursting with vibrant colors and whimsical designs, the garden offers a magical experience for all ages. Walking hand-in-hand through intricate flower sculptures and themed displays sparks joy and wonder in every family member. The joy is amplified with special Miracle Garden ticket offers, making this enchanting adventure even more accessible. Amidst blossoming beauty, families create cherished moments, surrounded by nature's artistry. Dubai Miracle Garden becomes not just a destination, but a cherished memory etched in the hearts of those who explored its fragrant paths together.
3. Aquaventure Waterpark: Embarking on a family adventure to Dubai's Aquaventure Waterpark is a plunge into excitement and shared moments. Nestled in the heart of Atlantis, The Palm, this water wonderland guarantees a day of fun for all ages. From adrenaline-pumping slides to serene lazy rivers, there's an experience for every family member. As parents and children conquer thrilling rides or unwind on the private beach, laughter and bonding fill the air. The splashes, screams, and smiles create a tapestry of cherished memories. At Aquaventure, family time isn't just an occasion, but a mosaic of shared joy that paints the perfect picture of togetherness.
4. Dubai Aquarium & Underwater Zoo: Dubai Aquarium & Underwater Zoo is an aquatic wonderland that captivates families. Nestled within The Dubai Mall, it offers an awe-inspiring journey into the depths of the ocean. Walking through the mesmerizing tunnel surrounded by marine life leaves both children and adults spellbound. The enchantment continues at the Underwater Zoo, where diverse creatures, from playful penguins to majestic sharks, showcase the wonders of marine ecosystems. This family-friendly attraction not only educates but also fosters a deep appreciation for marine biodiversity. Dubai Aquarium & Underwater Zoo is a place where imaginations are ignited, and the magic of the underwater world comes to life.
5. KidZania Dubai: KidZania Dubai sparks children's creativity and curiosity through immersive play. Situated at The Dubai Mall, it offers an innovative edutainment experience where kids step into various real-world roles, from doctors to firefighters, in a miniature city. This interactive environment fosters learning through hands-on activities, empowering youngsters to explore their interests and develop essential life skills. As children engage in role-play, they gain a deeper understanding of different professions and responsibilities. KidZania Dubai isn't just a playground; it's a realm of discovery where education intertwines seamlessly with fun, laying the foundation for young minds to thrive in the real world.
6. Dubai Parks and Resorts: Dubai Parks and Resorts is a colossal entertainment destination that promises boundless family fun. Comprising multiple theme parks, including Motiongate Dubai, Bollywood Parks Dubai, and Legoland Dubai, it caters to diverse interests. Families can embark on cinematic adventures, relive Bollywood glamour, and immerse themselves in creative Lego experiences. The parks offer an array of exhilarating rides, captivating shows, and interactive zones, ensuring a dynamic and engaging visit for all ages. With its range of offerings, Dubai Parks and Resorts stands as a testament to Dubai's commitment to providing world-class entertainment and memorable experiences for families from around the globe.
7. Wild Wadi Waterpark: Wild Wadi Waterpark, nestled near the iconic Burj Al Arab, is a haven of aquatic thrills and family enjoyment. With its array of water slides, wave pools, lazy rivers, and attractions, it ensures a day filled with excitement and laughter. The park's Arabian-themed design adds an extra layer of charm to the experience. Families can bond over heart-pounding adventures or simply relax in the sun-drenched oasis. Wild Wadi's seamless blend of adrenaline and relaxation makes it an irresistible destination for families seeking a perfect mix of fun and leisure, all within the backdrop of Dubai's stunning skyline.
8. Global Village: Global Village is a cultural extravaganza that invites families to traverse the world in a single visit. Operating during Dubai's cooler months, it showcases diverse cultures through pavilions, performances, and cuisines. Families can explore handicrafts, artworks, and traditions from different countries, creating a global journey without leaving Dubai. The vibrant atmosphere is heightened by live shows and entertainment that captivate all ages. Global Village's immersive experience fosters cross-cultural understanding and appreciation, making it a unique family outing where education seamlessly merges with entertainment, leaving indelible memories of the world's diversity.
9. Dubai Creek: Dubai Creek is a historic gem that offers families a glimpse into the city's heritage. The tranquil waterway divides Dubai into the old districts of Deira and Bur Dubai. Families can embark on traditional abra (water taxi) rides, immersing themselves in the charm of a bygone era. Along the creek's bustling shores, they can explore vibrant souks, savor traditional cuisine, and witness the timeless trade that shaped Dubai's history. The Creek's captivating blend of old-world authenticity and modern cityscapes creates a scenic backdrop for family walks, showcasing Dubai's transformation from a fishing village to a global metropolis.
10. Dubai Desert Safari: Dubai Desert Safari offers families a thrilling escape into the golden dunes. Adventurers can experience the heart-pounding excitement of dune bashing, followed by serene moments as the sun sets over the desert. Families can enjoy camel rides, sandboarding, and immerse themselves in Bedouin culture at a desert camp. Cultural performances, henna painting, and a sumptuous BBQ dinner under the starlit sky complete the experience. This enchanting desert journey provides a perfect balance of adrenaline and relaxation, creating cherished family memories against the backdrop of Dubai's mesmerizing desert landscapes.