A dining table is incomplete without crockery, especially while inviting guests for lunch or dinner. With the exquisite crockery set, your dining experience is enhanced, and the first impression on the guests is kept. Additionally, it will make the dining room feel beautiful, aesthetically pleasing, and complete.
While the demand for crockery has increased significantly, India is home to many crockery brands. These numbers continue to grow as people can choose crockery sets at extremely affordable prices and are highly reliable. The right set of crockery set can add 5 stars to your cuisine.
If you are looking to buy something premium instead of metal that will look premium, you can try earthenware, porcelain, glass, porcelain, terracotta, and stoneware. Choosing from these options will make your kitchen look fabulous. While some can be a bit fragile to handle, using them with care will not harm your fabulous collection.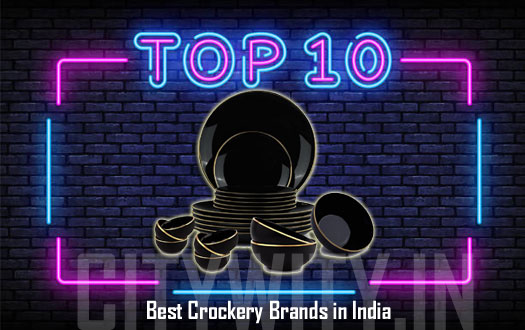 To choose the best cookware set for dining, you need to consider a few aspects, such as the material, style, color, number of items, and, most importantly, the brand. The more premium the brand, the more you can be sure that your crockery will be the best in terms of quality and durability.
Not clear yet which brand is best? Don't Worry! Here we have listed the top 10 best crockery brands in India 2023.
List of Top Crockery Brands in India 2023
| | | |
| --- | --- | --- |
|  Brand Name |  Established Year |  Head Office Location |
|  Borosil |  1952 |  Mumbai |
|  Milton |  1972 |  Mumbai |
|  Corelle |  1960 |  Gujarat |
|  Cello |  1986 |  Mumbai |
|  Clay Craft |  1994 |  Rajasthan |
|  Fabindia |  1960 |  New Delhi |
|  Signoraware |  1981 |  Himachal Pradesh |
|  Yera |  1907 |  Gujarat |
|  LaOpala |  1987 |  Kolkata |
|  Jaypore |  2012 |  New Delhi |
1. Borosil
The first best crockery brand we have is Borosil. It is a sought-after home products and kitchenware manufacturer. People from India like Borosil for the exceptional quality they offer. It is considered the biggest glassware brand in India. Established in 1952, it is associated with USA-based Corning Glassworks.
Due to gaining utmost popularity in India, it has its head office in Mumbai. Borosil has set its image in the competitive crockery market while having distinctive appearances in the United States and the Netherlands. The company has an exclusive range of drinkware, cookware, storage for the home, and crockery options. What sets it apart is the sturdy and durable material used in this crockery set designed by Borosil.
2. Milton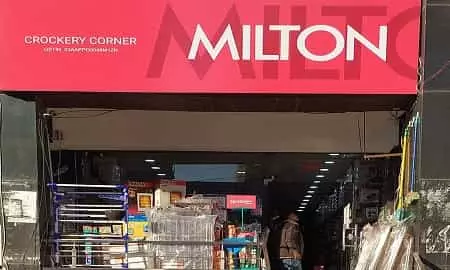 Another leading brand providing premium crockery is Milton. Over time, Milton has expanded and grown through homeware products. The comprehensive collection of products caters to the needs of modern consumers. Even most use water bottles, tiffins, casseroles, and many more for daily use. The brand is constantly launching the best quality products to make daily lives easier.
Launched in 1972, it has become one of India's most trusted and largest-selling companies. You can count on Milton to take care of your culinary needs, whether crockery sets or thermoses. The best thing about this brand is that it has changed its sales strategies, quality, construction, price, and ingredients. So you must try it once.
3. Corelle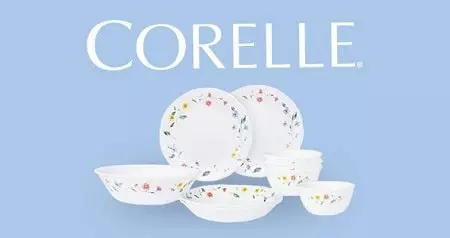 Corelle, on this list, is one of the phenomenal kitchenware and glassware manufacturers in India. The brand is currently the market leader. Launched in 1960 under Corning Glassworks Limited, it is headquartered in New York. Corelle products are designed keeping in mind the latest technology to complement the lifestyle of modern homes across the globe.
Almost every product from Coral is designed using the Vitrail material, a triple-layered tempered glass. These products are easy to handle, FDA-approved, non-breakable, non-porous, and chip-resistant, which is why the brand has become the first choice of Indian people. In addition, the products are lightweight and easy to clean, while the warranty over products ensures you can change the product at any time.
Another thing that most people do not know is that the brand was founded by Corning Glassworks. Products like tableware, cookware, bakery, catering supplies, goods for the kitchen, and storage are offered by the brand.
4. Cello
Many of you definitely know about the Cello brand just because of the quality and materials they provide. Cello is not just limited to kitchenware and homeware, it also deliver stationery items. Established in 1986, the brand is a leading name in the Indian market. It was initially begun with a small factory in Mumbai, India, and gradually became of the biggest brands in India.
Everything that meets your daily needs, from furniture to home utensils and appliances, is manufactured by Cello. With an exclusive range of over 10,000 products across 14 categories, it offers something unique for every home. You can try products like casseroles, chairs, crockery, cookware, etc. Not only in India, the brand has created products to sell outside to meet the demands of not only home but also restaurants, hotels, and catering.
5. Clay Craft
Clay Craft is a reputed Tableware manufacturer that was launched in the year 1994. One of the most commonly used materials in Clay Craft's products is ceramic. All its products are ISO-certified and are known for their impeccable materials and premium designs. As premium quality is used in each product, they are bound to last for a long time.
Furthermore, the brand is involved in manufacturing advanced crockery that caters to the demanding modern-day customers. Such products are made using fine bone china and have unique designs that look new even after years. Although some of its cookware and crockery sets are a bit pricey, it is okay when it comes to high quality.
6. Fabindia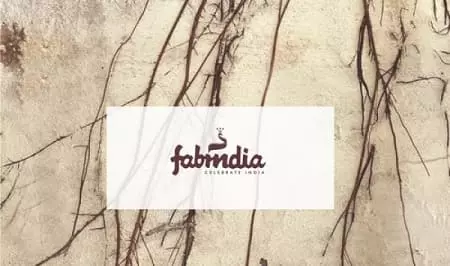 Fabindia is a trustworthy textile, home furnishing, and jewelry brand that was established by John Bissell in the year 1960. Fabindia has an excellent market spot in terms of quality and design. Having its headquarter in New Delhi, the brand expands its business across the country. By using conventional production methods, more and more quality products have been launched each and every day.
While its household products are a combination of manual processes, fashionable styles, and traditional techniques. Speaking of the workforce, over 55,000 people are employed in India. The product that is craft-based, economical, natural, and modern makes Fabindia different from other brands. This company has completely delighted its clients by exporting a decent product at a reasonable cost.
7. Signoraware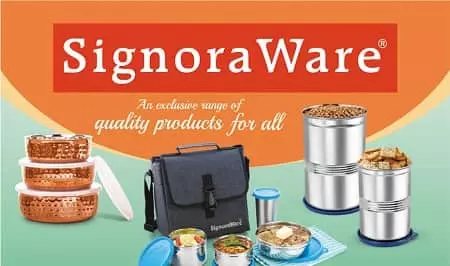 On this list, Signoraware is a premium Kitchenware and home appliances manufacturer in India. Established in 1981, and the owner is Sh.Y.K. Bansal, the brand has become the top leader in various categories. After owning ISO certification, Signoraware has earned the trust of customers.
It specializes in offering high-quality products with distinctive packaging. Its steps have reached the international platform for a few reasons. Some of them include the products being 100% microwave safe and food grade, marketing being done by a workforce of fully experienced and qualified professionals, better than any international plasticware brand, utmost perfection, and many more designed products make this brand top-notch.
8. Yera
Yera was initially known as Alembic Glass Industries but now works under the Glass Division of Shreno Limited was founded in the year 1907. This brand is one of the oldest manufacturers and distributors of materials for cooking. The brand specializes in classical designs, fantastic designs, and a wide variety of glass.
Improved service and upgraded standards are the new strategies of the brand so they can attract more and more customers. Each product is safe for microwave usage. They can also be heat-resistant, washed safely, and scratchproof. Over the years, it has launched various milestones of firsts on the track of the growth of the glassware sector.
9. LaOpala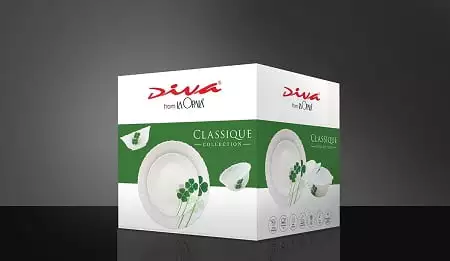 LaOpapa came into existence in the year 1987. Today, it has become one of the biggest glassware manufacturers in India. Products offered by LaOpala are designed with bone ash-free and vegetarian material. Other best qualities about its product include shock and spraying resistance, safe for washing, and microwave safety.
There are various premium quality options available by the brand at affordable costs. Choosing products from this brand would bring a stylish touch and class to your dining tables and kitchen. Moreover, the company has ISO certification, which is why its products have been exported to numerous countries worldwide. The company's development and research staff consistently export its customers with attractive designer products.
10. Jaypore
Those looking for a modern cum luxury manufacturer in the crockery category must know about the collection from Jaypore. Established in 2012, the New Delhi-based brand creates premium quality jewelry, home decor, vintage gifts, and accessories. All these products are highly appreciated by people all over the world.
Their exciting and trendy design for crockery is what you should opt for. Every product in the crockery section comes out of class within the budget. So, invest your buck to buy Jaypore products worth the price. Still haven't bought it! What are you waiting for? Visit Jaypore's official website to view the list of products.
Crockery Brands Related FAQs
Q1. What are the important things to consider while choosing crockery?
Answer: Crockery that is uniform in color with the rest of the tableware can be very essential to some people. It is always crucial to select dinnerware with a uniform finish. Some manufacturers provide matte glazes in addition to the typical glossy finish on products like plates.
Q2. How can I identify branded crockery?
Answer: Most plates, bowls, and platters will have a trademark or stamp from the factory on the underside. Check the middle rear of the dishware item for a hallmark, maker stamp, or trademark. A stamp, impression, or paint mark might be used to identify the product.
Q3. Which crockery is highly in demand?
Answer: Bone china, porcelain, and stoneware (also known as earthenware) are the most commonly available types of dinnerware, porcelain is the most long-lasting. The thinnest and most expensive type of crockery is bone china.
Q4. Which color is ideal in crockery?
Answer: Spence claims that white, circular plates highlight the sweetness of food whereas black, angular dishes emphasize the saltiness. Red plates are associated with less food being eaten per person.
Q5. What all is included in a crockery set?
Answer: Dinner plates, bowls, dessert plates, spoons, service platters, and bowls and spoons are all part of a full set of crockery.
Q6. Why crockery is highly priced?
Answer: Because of their refined aesthetic, ceramic goods tend to be quite pricey. Their products are of exceptional quality. Ceramics manufacturing is a skilled and complex process. Craftspeople and ceramic designers have much education and experience.
Q7. Which crockery is heaviest?
Answer: Stoneware, in contrast to porcelain, is bulkier and more opaque.
Q8. Can we recycle crockery?
Answer: Plastic and paper/card plates can be recycled as long as all remnants of food have been removed. The trash can is the proper place for shattered dinnerware.
Final Words
Crockery is an excellent addition to your dining, as well as your kitchen's cookware collection. By checking out the best collection of the above-listed brand, you can find one that suits your dining needs. Hopefully, you will find the best crockery option within the decided budget.