Before we get on with today's post, we'd like to let you know about a jaw-dropping fact about heels. And the fact is that heels were never meant to be worn like a fashion statement, and they were first invented for men to wear while horse riding. But over the years, somehow the heels became a women's thing, and to be honest, we aren't disappointed at all how heels ended up becoming a way for women to feel confident and make a style statement. Heels have the power to transform an outfit and make a woman feel confident, powerful, and elegant. They add height, elongate the legs, and make a woman stand out in a crowd. So yeah, heels are the go-to choice for women to wear for special occasions, or even as casual wear if you want.
But buying a new pair is nothing like buying a pair of shoes. You've got to consider a lot of things like the heel length, comfort, design, type, and whatnot. And with so many brands offering their heels options in the Indian market, which can be quite overwhelming for you. That's why we have come up with a list of the top 10 best heels brands in India for 2023 that offer the best heels for women in the market. Forget about all those generic brands, consider these top brands that are dominating this segment of the market in the country. Not just that, these brands are renowned to offer the best quality, most comfortable and most stylish heels in the country. You can blindly trust these heels brands to provide you with top-notch products. So let's now dive into a select the perfect heels brand that suits your needs and budget as well.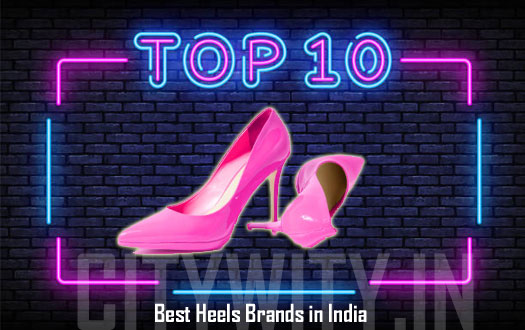 List Of The Top 10 Best Heels Brands In India
| | | |
| --- | --- | --- |
| Brand Name | Established Year | Head Office |
| Bata | 1894 | Gurugram |
| Mochi | 2000 | Mumbai |
| Clarks | 1825 | Gurugram |
| Hush Puppies | 1958 | Gurgaon |
| Liberty | 1954 | Gurgaon |
| Marc Lorie | 2014 | Delhi |
| Khadim's | 1981 | Kolkata |
| Metro | 1977 | Mumbai |
| CANVI | 2000 | Delhi |
| DICY | 2015 | New Delhi |
1. Bata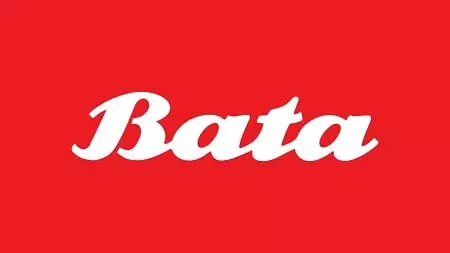 Are you ready to elevate your shoe game to new heights? Look no further than Bata, the footwear brand that has taken the Indian footwear industry by storm. Despite its foreign roots, Bata has expertly positioned itself as a true Indian-origin brand, earning the trust and devotion of fashion enthusiasts across the country. But Bata's success is not just about clever branding – it is truly a customer-centric brand, delivering unbeatable quality footwear that is both comfortable and affordable. Whether you're seeking a sleek and sophisticated pump or a bold and daring stiletto, Bata has it all, with designs that are sure to make you stand out from the crowd. Don't settle for anything less, choose Bata and experience the perfect blend of style, comfort, and affordability.
2. Mochi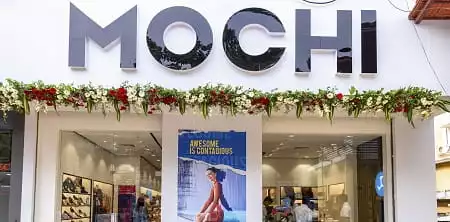 Mochi is more than just a footwear brand, it's a footwear revolution. Established in 2000 in the bustling city of Bengaluru, this Indian-origin brand quickly made a name for itself as the go-to destination for those seeking the perfect balance of comfort and style. With a range of options that cater to all tastes, Mochi has become a favorite among customers around the globe. But it's the brand's heels collection that truly sets Mochi apart. Each pair is crafted with precision, care, and attention to detail, resulting in a collection that is nothing short of stunning. From classic to contemporary designs, these heels are designed to make a statement. But it's not just about the look, and we all know how hard it is to find a pair of heels that won't make your feet scream for mercy after just a few hours! That's why we recommend Mochi, a brand that offers the most comfortable heels in the country.
3. Clarks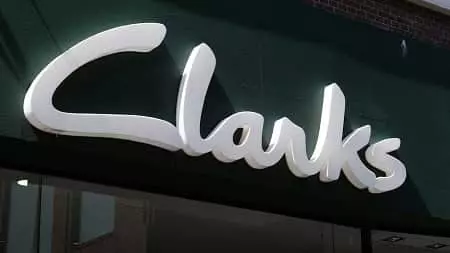 Clarks is more than just a footwear brand, it's a legacy. Established in 1825, this British company has been crafting shoes for nearly 200 years and has built a reputation for crafting shoes that are not only stylish but also incredibly comfortable. For Indians, Clarks is not just a brand but a way of life, with a huge fan base in the country who swear by its quality and durability. But what sets Clarks apart is the sheer breadth of their collection. Whether you're looking for a pair of heels to turn heads at a party, or a comfortable pair of sandals to wear on a lazy Sunday afternoon, they have something for everyone. They have a vast collection of shoes that cater to every need and occasion. From classic leather brogues to trendy sneakers, they have it all.
4. Hush Puppies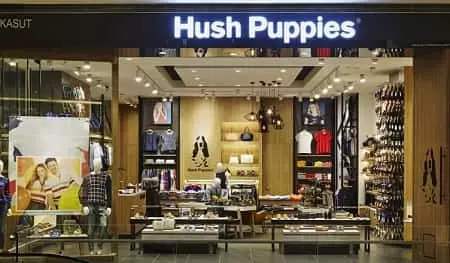 This beloved brand is known for creating footwear that combines fashion and function to perfection. Their women's heels are no exception, offering a wide range of options that will have you looking and feeling your best. From classic pumps to on-trend wedges, Hush Puppies has something for every occasion and every style. And do you know which is the  best part? These heels are made with premium materials and innovative technologies, ensuring they are not only stylish but also durable and comfortable to wear. Whether you're running to a meeting or dancing the night away, Hush Puppies heels have got you covered.
5. Liberty
Once the reigning king of the Indian footwear industry, Liberty has faced the challenges of intense competition but has emerged stronger than ever. Dedicated to providing the best footwear solutions to its customers, Liberty is known for its unparalleled durability, comfort, and affordability. But, the brand's true claim to fame is its stunning heels collection. With a focus on attention to detail and unmatched craftsmanship, each pair of Liberty heels is a work of art. They may not have the largest collection on the market, but every pair is guaranteed to leave you dazzled and wanting more. Liberty is for sure a brand that will make your feet happy, and your wallet even happier.
6. Marc Lorie
Marc Lorie is a footwear brand that has quickly made a name for itself in the world of fashion. Established in 2014, this brand has quickly become the top choice for women in India, thanks to its high-quality heel options. If you're looking for the perfect pair of heels online, you'll find many listings from the Marc Lorie brand on popular marketplaces like Amazon, Myntra, and Flipkart. And with tons of positive reviews and high star ratings, it's clear that this brand is a hit in the Indian footwear industry. Whether you're looking for a classic pump or a trendy heel pair, Marc Lorie has one  that will suit your style.
7. Khadim's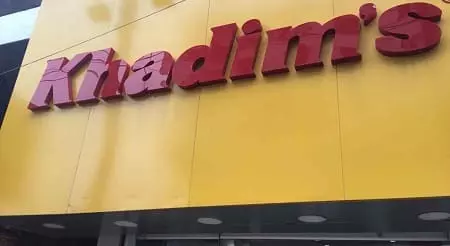 Founded in 1981, Khadim's has been taking the footwear industry by storm with its innovative designs and premium materials. Their heels are not just stylish, but also designed with comfort in mind, making them a reliable choice for any woman on the go. The brand's attention to detail is evident in every pair of heels, with a range of colors and designs that are sure to complement any outfit. But what truly sets Khadim's apart is their use of premium materials, ensuring that their heels are not only fashionable but also built to last. You can trust that a pair of Khadim's heels will be your go-to footwear for any occasion, and will stand the test of time.
8. Metro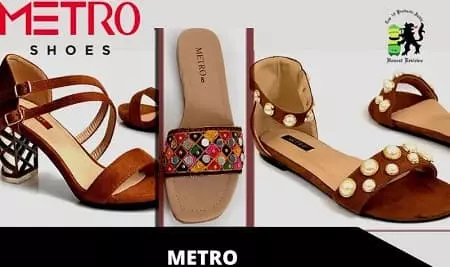 Introducing Metro, the footwear brand that's taking the fashion world by storm. At first glance, you might think Metro is just like any other shoe brand, but you'll be surprised to know that this brand has over 500 retail outlets and physical showrooms all across the country. That's right, wherever you are, you're never too far from a Metro store. But what really sets Metro apart from the rest is its commitment to affordability. They understand that shoes are an essential part of every woman's wardrobe, and they don't want anyone to have to break the bank to stay stylish. With Metro, you'll never have to choose between fashion and budget. And don't let the affordability fool you, when it comes to heels, Metro has some of the best options around.
9. CANVI
Introducing CANVI, a brand that may not be on the tip of everyone's tongue, but is definitely worth considering for your next footwear purchase. CANVI isn't just a footwear brand dedicated to women's shoes or footwear options in general; you can find products for men, women, and kids as well. Heels and other footwear products offered by CANVI are easily accessible from online marketplaces like Amazon and Flipkart. So, whether you're looking for a new pair of heels to elevate your wardrobe or a comfortable shoe for everyday wear, CANVI has you covered.
10. DICY
Lastly, we'd like to introduce another similar brand to the previous brand on our list, it's DICY. And it is possible that you may have never heard of his brand, but the thing is that, when you began your search for the best heels to buy online, you'd come across many listings from this particular brand. And the truth is that many people in India are loving the footwear options offered by DICY. So yeah, if you are on the lookout for the best heels pair for yourself or want to gift it to someone special, make sure you also consider this brand before making the final purchase decision.
Heels Brands Related FAQs
Q1. Which gender wore heels first?
Answer: Heels actually popped up in Persia back in the 10th century, and guess what? They were meant for men! Wealthy dudes wore them to add some extra height, and when they hopped on their horses, those heels clicked right into the stirrups.
Q2. Why did men stop wearing heels?
Answer: During the 18th century, shoes started to become more gender-specific. Ladies' shoes got narrower, fancier, and had higher heels, while men's shoes got wider and sturdier. Around 1730, men decided to drop the heels because they thought they were getting too girly.
Q3. How many types of heels for girls?
Answer: You won't believe it, but there are a whopping 32 different types of heels for women! From shoes to sandals, and everything in between, there's a heel for every outfit, occasion, and mood. They come in all shapes and sizes, from low and high, to straight and curvy. Talk about options!
Q4. What are the safest heels to walk in?
Answer: If you want to keep it comfy and safe, go for heels between one to three inches. At this height, there's less pressure on the ball of your foot and your legs. But if you're into something taller, try platform-style heels to shift pressure off the balls of your feet.
Q5. Are high heels unhealthy?
Answer: Well, experts say that high heels can send shockwaves through your body, starting at your feet and going all the way up your spine. They can mess with your posture, and gait, and even cause arthritis in your spine. Plus, if you wear them for too long, you could end up with a shortened Achilles tendon.
Q6. What heels are good for flat feet?
Answer: If you're dealing with flat feet, wedge heels are your best friend. They're lower than stilettos, so you won't have to worry about arch pain or other issues. Plus, they're sturdier than other heel types, which means better balance and comfort for you.
Conclusion
This list of the top 10 best heels brands in India for 2023 is more than enough for anyone who wants to buy a new pair of heels for themselves. Choose any of these top 10 brands, and it is almost guaranteed that you won't be disappointed with the product quality, comfort, and design you get. So yeah, treat yourself with a new pair of heels from one of these top-notch brands and step out in style.