One such recipe that has won the hearts of millions across the globe, has to be Pickle. Correct? It is believed by historians that the pickle was first invented in northern India thousands of years ago. Back then, people were just as in love with pickles as we are today. And for good reasons actually. Many health experts and medical professionals say that having a pickle regularly can be incredibly beneficial to an individual. On top of that, pickles just taste so good. Don't you think? Well, in India, people still make pickles at home, but nowadays, you can just head over to the market and buy a ready-made jar of your favorite pickle. But the thing is, since there are dozens of brands offering all sorts of pickles in the country, it can get confusing real soon. But worry not, we are here with the list of the top 10 best pickle brands in India for 2023 to make this whole thing a little easy for you. So yeah, without getting distracted from the topic, let's head straight to the list. Shall we?
List Of Top Pickle Brands In India
| | | |
| --- | --- | --- |
| Brand Name | Established Year | Head Office |
| Nilon's | 1962 | Mumbai |
| Priya | 1980 | Hyderabad |
| Dabur | 1884 | Ghaziabad |
| Pachranga | 1925 | Panipat |
| Mother's Recipe | 1908 | Pune |
| Aamra | 1964 | Ghaziabad |
| Patanjali | 2006 | Uttarakhand |
| Bedekar Foods | 1910 | Mumbai |
| Swad | 2009 | Delhi |
| Annapurna | 1952 | Kolkata |
1. Nilon's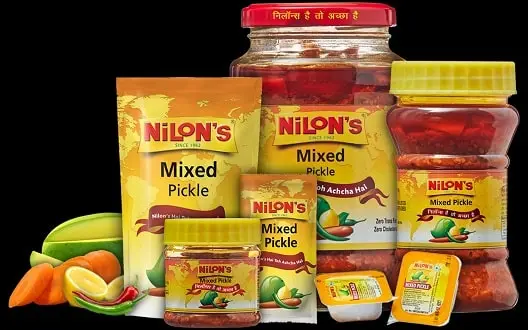 Did you know how old Nilon's (your favorite pickle brand) is? Well, you'll be surprised to know that it was started back in the year 1962 by two brothers named Suresh and Prafful Sanghavi. That was just a start because they didn't know how far they were going to take this brand, but we all know how that turned out for them. As of now, Nilon's is famous for its vast product range, from the most premium quality pickle jars in the country to top-notch quality spices and other grocery items for kitchens in the country. Whether you want ketchup, pickles, spices, soya beans, and anything like that, Nilon's has got you covered. And the best thing about them is that no matter where you are located in the country, you are bound to find their products in even the smallest shops.
2. Priya
Next on the list is Priya Foods, a brand that feels like home to many in India, especially when it comes to pickles. Established in the vibrant culinary landscape of India by Ramoji Rao of the Ramoji group back in the 1980s, Priya Foods began its journey with just six pickle flavors. But as time passed, their offerings have grown impressively to feature thirty-three different pickle varieties and ten pastes. And you may be wondering why Priya Foods has grown so popular. Correct? Well in the case of this particular brand, it's all about the taste, a harmonious balance between age-old recipes and today's manufacturing techniques. This ensures that every jar offers the same genuine Indian taste. A great example is their Mango Avakaya Pickle with Garlic. This isn't just any pickle; it captures the very soul of traditional South Indian flavors.
3. Dabur
Travel back to 1884 in Kolkata, and you'll find Dr. S. K. Burman, an Ayurvedic doctor formulating remedies for various ailments from cholera to malaria. He started modestly, selling his concoctions on a bicycle. Yet, as word spread, his medicines became so revered they adopted a new name: "Dabur," a blend of "Daktar" (doctor) and his own surname, "Burman." From this humble beginning, Dabur has grown into one of India's FMCG giants. Their product range? It's vast, from personal care and health supplements to drinks and beyond. Around 60% of Dabur's revenue comes from consumer goods, 11% from food, and the remaining from international sales. Dabur's rise hasn't been solely due to its products but also its innovative spirit.
4. Pachranga
In the northern parts of India, if you mention pickles, one name might just come up more often than others: Pachranga. Wondering what it means? "Pachranga" is Hindi for "five colors," hinting at the colorful mix of ingredients in their pickles. But Pachranga isn't just about colors. It's a symphony of flavors, sour, tangy, and spicy, all dancing together. The ingredients, ranging from amla (Indian gooseberry) and karonda to lotus stems and tiny lemons, are chosen with care, each bringing its unique taste and health benefits. For instance, the karonda fruit is a boon for those with anemia due to its rich iron and Vitamin C content. Lotus stem, on the other hand, offers iron, calcium, and dietary fiber.
5. Mother's Recipe
Mother's Recipe, from Pune's Desai Brothers, is a big name when we talk about Indian pickles. What makes them special? They have stayed true to the old Indian ways of making pickles. So, when you taste their pickles, it's like a trip back in time, just like the pickles our grandmothers used to make. Over time, a lot of people in India and even outside have come to love this brand. And it's not just about pickles anymore. They now make things like cooking pastes, fried snacks, spice mixes to cook with, and even chutneys. Their pickles, though, still have a special place. They taste genuine and are made in the same old way, using oil and salt instead of modern chemicals. That's why those who don't like preservatives often go for Mother's Recipe. They're always trying new things based on what people like. They've even got plans to make mayonnaise soon under a new name: Spread On.
6. Aamra
Aamra is not just another pickle brand; it carries with it years of tradition. It's been here for a long time, and the credit goes to people like Anita Kashyap and Usha Devi. These hard-working women have been with Aamra for many, many years, making pickles with care and love. They don't rush; they follow every step, just like it was done in the old days. This care is why Aamra's pickles taste so authentic and real. People particularly love their Heeng Aam Pickle. When you have their pickles, it's like a memory from the past, from times when families gathered together to make pickles. Talking about Anita and Usha, their journey is worth admiring.
7. Patanjali
In a market filled with old and established names, Patanjali Ayurveda Ltd burst in like a breath of fresh air. Even though it's a newcomer, it grew super fast. Why? A lot of its success is thanks to Baba Ramdev, a famous yoga teacher and spiritual guide in the country. People trust him, and so they trust Patanjali. By 2015, it was already the third-biggest FMCG company in India, and that's no small feat! What's their secret? They focus on natural stuff. They promise that their products are based on Ayurveda (a traditional Indian way of healing) and don't have harmful chemicals. This message touched many Indians' hearts, making them fans of Patanjali. From things for personal care to food, they offer a lot.
8. Bedekar Foods
Bedekar Foods isn't just a brand; it's a tale that spans over 100 years, handed down from one generation to the next. What began as a small grocery shop has now become a name that many in India trust and love. Why? Their pickles have won top prizes in national fruit shows, showing their commitment to quality. They've always kept things genuine, sticking to old recipes which have helped them win hearts not only in India but also among Indians living abroad. Imagine the feeling when, in 2010, the fourth generation of the Bedekar family celebrated the company's 100th birthday! That tells us this brand knows how to adapt without forgetting its roots. Their pickles are a mix of real tastes, top-notch ingredients, and the sheer love they put in every jar.
9. Swad
Every Indian family boasts of a unique pickle recipe, secretly passed down over the years. Swad Shop captures this essence but makes it available for everyone. Their pickles are special because they use a mix of many ingredients, exactly how traditional recipes dictate. But Swad pickles aren't just a treat for your taste buds; they're good for your health too. They have antioxidants, provide vital nutrients, help your immunity, aid digestion, and can even be kind to your liver. Made with true Indian herbs and spices and watched over by experts, Swad's pickles are about trust and quality. With their vast pickle variety, you're sure to find one you'll love.
10. Annapurna
Lastly, let's talk about another brand that is popular among people who prefer to buy grocery items online from marketplaces like Amazon or Flipkart. We are talking about the Annapurna brand. From the richness of their Annapurna Ghee to the freshness of their dairy products like paneer and cream, they've offered something for everyone's taste. However, among their many tasty items, there's a special section called "Pickle Story." Think of it as the crown jewel of their offerings. Imagine the best ingredients mixed with aromatic spices and the result is a pickle that just bursts with flavor. Have it with warm parathas or hot rice, and you're in for a treat! That's what you get when buying Annapurna Pickle.
Conclusion
There you have it. These are by far the best pickle brands in the country. Pick any of these pickle brands and you'll be good for the most part. However, we'd advise you to try different brands first and then see which one you like the most as per your taste and budget. Then stick to that brand because that's how it should be. Don't you think?