As you may have already seen that there is almost like a surge of demand in the Indian market for Ayurvedic products. Correct? Well, that's because now more and more people in India are realizing how important it is to avoid toxic products and switch back to what our ancestors used to use thousands of years ago. That is exactly what Ayurveda is. As of now, there are many brands in the Indian market that are offering the best Ayurvedic products to the general public. However, since there are dozens of such brands, you may find yourself a little confused when choosing the right one as per your needs and of course budget. That is exactly why we are here today with the list of the top 10 best Ayurvedic brands in India for 2023. So yeah, without wasting any time, let's get down to the list then.
List of Top Ayurvedic Brands In India

| | | |
| --- | --- | --- |
| Brand Name | Established Year | Head Office |
| Patanjali | 2006 | Uttarakhand |
| Baidyanath | 1917 | Jhansi |
| Dabur | 1884 | Ghaziabad |
| Zandu Care | 1910 | Kolkata |
| Himalaya Wellness | 1930 | Bangalore |
| Charak Pharma | 2000 | Mumbai |
| Vicco Laboratories | 1952 | Nagpur |
| Hamdard India | 1907 | Delhi |
| Forest Essentials | 2000 |  New Delhi |
| Sandu Pharmaceuticals | 1899 | Mumbai |
1. Patanjali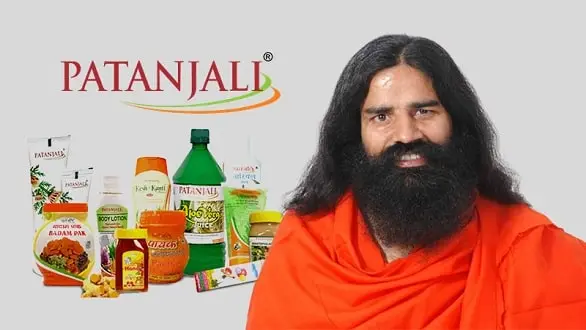 Started by the well-known Yoga teacher Baba Ramdev in 2006, Patanjali quickly became a big name in India's shopping world. People love their products because they're natural, come at good prices, and are made in India. Even though there are many other brands, Patanjali grew really fast because they made smart choices and offered what people wanted. What's special about them? They don't advertise much. Instead, people talk about how good their products are, and that's how the word spreads. Also, they've teamed up with big stores like Future Group to make sure more people can buy their stuff. All in all, Patanjali is one such brand that you can trust when it comes to ayurvedic products in the country.
2. Baidyanath
Then there is Baidyanath, a brand that has been around for a long time, over 100 years! Started by Ram Dayal Joshi in 1917, this brand has a deep connection with the ancient way of healing called Ayurveda. They not only sell many health and beauty products but also work hard to keep the old wisdom of Ayurveda alive. They're known for good quality and keeping prices fair. They've also added new products to fit today's needs but still hold onto the heart of Ayurveda. In a world with so many new Ayurvedic brands popping up here and there all the time, Baidyanath's long history helps them stand out. If you were looking for ayurvedic products in their purest form, then this brand should be the go-to choice for you.
3. Dabur
Well, do you know many people call Dabur the "Guardian of Ayurveda?" It's the biggest company of its kind in India and the world. It's been around for more than 138 years, mixing old Ayurvedic knowledge with new science. Right now, Dabur is one of the top four companies in its field in India. It earns more than Rs. 10,800 crores and is valued at more than Rs. 100,000 crores. You can find their products in almost 7 million shops, in cities and villages. Also, you can buy Dabur items in more than 120 countries. In fact, more than a quarter of their money comes from sales outside India. Can you believe that? Lately, they've also started selling more online, making products just for online shoppers. People trust Dabur because they've been around a long time, they make good quality products, and they always try new things.
4. Zandu Care
For over a century, Zandu has been deeply rooted in the ancient world of Ayurveda, a traditional Indian healing system. Imagine, 110 years of passing down knowledge and refining remedies! This isn't just about selling products; it's about sharing a rich heritage. What makes Zandu special is their knack for blending age-old Ayurvedic methods with today's technology. It's like taking a pinch of the past and a dash of the present to make something truly unique. This mix ensures their products aren't just authentic, but also of top-notch quality. Under the banner of "Zandu Care", the brand has taken a step further to show its dedication.
5. Himalaya Wellness
When it comes to skincare products, Himalaya Wellness is one of the biggest names in the country. And most of you may just know this brand as just Himalaya, correct? Well, did you know that it is actually a brand with more than 90 years of rich history? Yeah, you heard that right. However, Himalaya isn't just a skincare product brand, it is for sure more than that. If you check out their catalog, you'll find all sorts of products like personal care, pharma products, animal health products, baby care products, and other types of wellness products. And we challenge you to check for any of this brand's quality, that's because you'll only receive the top-notch quality product from Himalaya Wellness, and that is the main selling point of this brand in the country. So yeah, it is no wonder why Himalaya Wellness is on this list.
6. Charak Pharma
Alright, let's now delve into the journey of Charak Pharma. Born in 1947, right around the time when India was reveling in its newly-found independence, this brand had a vision. A vision to spread the magic of herbal healthcare far and wide. And guess what? It hasn't just been sitting around. Charak Pharma has been hustling, growing its footprint both within India's boundaries and beyond. While they offer a broad spectrum of beauty and healthcare goodies, one thing is common among them all, they're "effective and safe". Fancy that! As they've grown, they've claimed their rightful title as a "household brand" in, hold your breath, over 35 countries. All in all, Quality, to Charak Pharma, isn't just a word, it's practically a religion for them. From manufacturing to packaging, they ensure only the best for their customers.
7. Vicco Laboratories
Now, who among us hasn't hummed that good old and nostalgic Vicco jingle at least once? Founded by Keshav Vishnu Pendharkar in 1952, Vicco Laboratories was more than just a company. It was a revolution. Before herbal was cool, Vicco was already making Ayurveda a daily household name. Imagine introducing 'haldi' (turmeric) in skincare long before it became a global trend! But yeah, the journey wasn't without its hurdles. Remember the time people murmured about the Vicco turmeric cream staining their skin yellow? Vicco didn't just sit back; they went door-to-door, demonstrating the product's authenticity. And then came the cosmetic tax issue in 1978. Well, after a long legal tussle, the courts sided with Vicco.
8. Hamdard India
Following India's partition, Hamdard displayed its resilience by extending its branches to neighboring Bangladesh and Pakistan. Now, their product range is simply vast! From the refreshing Sharbat Rooh Afza to the wellness-packed Roghan Badam Shirin, each product carries its legacy. But what truly warms the heart is the Hamdard Foundation. Established in 1964, this trust promises to give back, focusing on the betterment of society, primarily through health and education initiatives. And yeah, if you still didn't recognize this brand, then you may have heard of or drank Rooh Afza at some point in your life, right? That's one of the fantastic products from this brand's product catalog.
9. Forest Essentials
Launched in 2000, this brand boldly stepped into the luxury Ayurvedic beauty world. Fast forward to today, it's not just any brand; it's the quintessential Indian Beauty Brand, digging deep into the secrets of ancient beauty traditions for skin and hair. Did the pandemic bring changes? Oh, absolutely. Post-COVID-19, Forest Essentials noticed more folks are getting serious about their skin and hair routine. That at-home spa vibe? It's real, and it's all because we've become more clued-in about looking and feeling good. According to the Ayurveda experts at Forest Essentials, they say that if you can't eat an ingredient mentioned in Ayurveda, don't even think of putting it or applying it on your skin. That's kind of the whole point with their products because you get pure ingredients.
10. Sandu Pharmaceuticals
Have you ever heard of Sandu Pharmaceuticals? No? Well, you should have. They've been doing the Ayurvedic thing for more than 100 years. This makes them not just old school, but the gold standard in India. They're super strict about quality, handpicking raw materials, and boasting ultra-modern production spots that stick to the big global rules. They're not just about the old ways, though. Sandu pumps money into research, marrying the ancient with the new age, and coming up with stuff that's not just unique but works. Sandu's big on giving back. They're pushing the Ayurveda narrative, hosting events, talks, and sessions, making sure more people get why Ayurveda's the real deal.
Conclusion
That'll do it. In this list, we have included brands that are actually famous for various products in the country. For example, Himalaya is famous for its skincare products, and on the other hand, Patanjali is known as a big FMCG company in the country. So yeah, as per your needs, you can pick these brands and make your life a whole lot better.