Diamonds and gems have always been quite important in the Indian subcontinent. People in this culturally rich country have been using diamonds in their jewelry for many centuries now. So yeah, it is pretty understandable why there is so much demand for diamond jewelry in the country. On top of that, no one can't deny the fact that diamond jewelry just looks stunning. Don't you think? However, the thing with diamond jewelry is that not everyone can tell the difference between real and fake diamonds. That's why you must always buy diamonds or diamond-embedded jewelry from trusted brands. And for that exact reason, we are here with a detailed list of the top 10 best diamond jewelry brands in India for 2023. After doing a lot of research, we came up with this list, so yeah, you may wanna stick with us until the end. Let's get down to the list now, shall we?
List Of Top Diamond Jewelry Brands In India
| | | |
| --- | --- | --- |
| Brand Name | Established Year | Head Office |
| Tanishq | 1994 | Bangalore |
| PC Jeweller | 2005 | New Delhi |
| Malabar Gold and Diamonds | 1993 | Kozhikode |
| Kalyan Jewellers | 1993 | Thrissur |
| BlueStone | 2011 | Bengaluru |
| Reliance Jewels | 1996 | Mumbai |
| CaratLane | 2008 | Chennai |
| Senco Gold and Diamonds | 1994 | Kolkata |
| Bhima Jewellers | 1925 | Alappuzha |
| Joyalukkas | 2001 | Thrissur |
1. Tanishq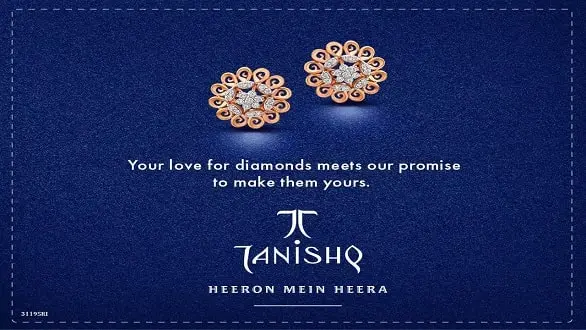 Tanishq is a famous jewelry brand from India, tied to the larger Titan Company. Imagine: it started in 1994 and today, it has over 410 stores across more than 240 cities! It originally aimed to sell jewelry to places like Europe and America in the late 1980s. But things change, right? By the 1990s, they began to focus more on India. The first Tanishq store was a big hit in 1996, setting the trend as India's first chain of jewelry stores. One thing that made people love Tanishq was their "Karatmeter" which is a special tool that checks if gold is pure. And guess what? They let people use it for free! Many were surprised to find out that their gold wasn't as genuine as they thought. Tanishq set the gold standard (pun intended) by promising 22-carat gold jewelry. Over time, they came up with new lines, like Mia for working women, Rivaah for weddings, and even Aveer for men in 2017.
2. PC Jeweller
PC Jeweller, nestled in the heart of India, New Delhi, started its journey in 2005. In the blink of an eye, they grew, and now you can find their presence in 67 cities spanning 17 states. They didn't stop at just one shop; they built many more all over India! And do you know what makes them so trusted? Every piece they sell carries a hallmark or is a certified diamond item. It's their promise of pure, genuine quality. No matter your budget, they have something for everyone, but they seem to have a special love for diamond jewelry. Every step, from getting the raw stuff to handing over the shiny jewelry piece to a customer, is watched closely to make sure everything's top-notch. With PC Jeweller, every jewelry piece becomes more than just an accessory; it becomes a memory that lasts forever.
3. Malabar Gold and Diamonds
When you think of jewelry that's known worldwide, Malabar Gold and Diamonds might pop into your mind. Born in the beautiful city of Kozhikode, Kerala, this brand has now touched skies far beyond India. Founded by a visionary, M. P. Ahammed, in 1993, the brand had humble beginnings with just one showroom in the country. Today? Well, they've blossomed into a global name with a whopping 325 showrooms in 11 countries. They even opened 11 new places in one day in 2018—talk about setting records! And it's not just India that loves them. Countries like the US, UK, UAE, and several more, treasure their jewelry. Whether you adore traditional Indian designs or lean towards modern styles, Malabar ensures every piece is crafted with love and expertise.
4. Kalyan Jewellers
If there's a name that rings a bell in the Indian jewelry world, it's Kalyan Jewellers. Way back in 1993, T.S. Kalyanaraman opened their first store in Thrissur, Kerala. Fast forward to now, and they've spread their sparkle not only across India but also to countries in the Middle East like the UAE and Qatar. Kalyan Jewellers believes in keeping their customers in the loop, educating them about what genuine gold looks like and how to smartly choose jewelry. Embracing the digital era, they've made shopping even easier. Just a few clicks on their website or mobile app, and you can bring home their shimmering pieces, no matter where you are. With Kalyan Jewellers, it's all about trust, beauty, and convenience.
5. BlueStone
Started in Mumbai in 2011 by Gaurav Singh Kushwaha, this brand quickly caught everyone's attention. Why? Because while most jewelry shops were still traditional, BlueStone was already online, making jewelry shopping so much easier for folks. Guess what? They now have over 100 physical stores all over India. So, whether you love to shop from your couch or prefer to visit a store, BlueStone has got you covered. They've got this cool feature where you can even design your jewelry and have it delivered just the way you like it. They offer a wide range of jewelry like gold, diamonds, and gemstones. Oh, and before we forget, they have this "Try at Home" thing. It's as awesome as it sounds! You can try their jewelry at home before buying it.
6. Reliance Jewels
Next up is Reliance Jewels. And as you may already know it is actually a part of the big Reliance family, one of India's largest companies. They stepped into the jewelry world in 2007 and, wow, they've made quite a mark! Recognized as one of India's top brands by the Economic Times in 2020, they really know their jewelry. What's their secret? Well, they focus on great designs, top quality, and being honest with their customers. With the trust of being a part of the Reliance group, many people have grown to love their collections. Young folks or those who love trendy designs, this brand is for you! They've been spreading their magic through various stores, and even online on platforms like AJIO and JioMart.
7. CaratLane
Have you ever heard of CaratLane? If you're into jewelry, you probably have. CaratLane started its journey in 2008, thanks to the dream duo, Mithun Sacheti and Srinivasa Gopalan. Their dream was to make stunning jewelry that won't empty our wallets. Shops, Shops Everywhere: Fast forward to today, and they've got over 165 stores in more than 66 Indian cities. That's like going from one tiny shop to a whole empire in a few years! Oh, and guess what? By 2016, the big wigs at Tanishq, another massive jewelry brand, saw how cool CaratLane was doing and decided to team up.
8. Senco Gold and Diamonds
Senco Gold and Diamonds is a popular jewelry brand that started in Kolkata, West Bengal. People in India have come to love and trust them over time. This brand has been around for more than 50 years, starting as a smaller company called Senco Gold Private Limited in 1994. But they wanted to reach more people and do more in the world of jewelry. So, in 2007, they changed to Senco Gold Limited and became a bigger, public company. What makes Senco Gold special? Well, they're all about trust. They're open and clear with customers, and that's why people keep coming back. They're not just selling jewelry; they understand what each piece means. Whether it's for a wedding, birthday, or anniversary, they know it's special. They first made a name in West Bengal, but now they are spreading all over India.
9. Bhima Jewellers
When people in India think of quality jewelry, they often think of Bhima Jewellers. This brand started its journey way back in 1925 by a man named Bhima Bhattar. He wanted to give people quality jewelry they would cherish forever. Today, they have a big presence with 116 stores in South India and more than 2000 people working for them. Trust and quality are at the heart of everything they do. Families have been buying from them for generations because they know they'll get something genuine. Their jewelry comes in many styles, from traditional Kerala pieces to modern designs. And for those who like shopping online, they have a website, bhimagold.com, where people can browse and buy from their homes.
10. Joyalukkas
And then there is Joyalukkas, a jewelry brand that began in 1987 in the UAE, but its family's connection to jewelry goes way back to India. In 1993, they brought the brand to Thrissur, Kerala, and it was a big hit from the get-go. They didn't stop there, and now there are Joyalukkas stores all over India. People love Joyalukkas because they offer great quality, fresh designs, and they really care about their customers. They've even had famous people in their ads, which helps more people know and like them. Besides India, they also have stores in places like the UAE, UK, and USA.
Conclusion
Alright, that'll do it. These are by far the best of the best diamond jewelry (normal jewelry for that matter) in India. Almost all the brands presented in this list have been in this business for many decades, so the trust factor is always there. That means you can pick any of the brands mentioned in this list with your eyes closed and you won't need to worry about whether you get the top-notch quality or not. That's actually the best part.