These days you see so much influence of western culture in India, and it wouldn't be completely wrong if we state that the influence is much greater on the fashion industry or clothing industry in general. But still, as Indians, we haven't forgotten our culture, for example, sarees are an integral part of Indian tradition. Even in today's modern era, whenever it is a special occasion, women choose to wear saree instead of western dresses. Sarees are a part of our tradition-rich Indian culture no matter which state you live in.
And it is true that on a special occasion, you should try on something new, unique and stylish. There are several saree brands in the Indian market that have some of the most stylish and unique saree pieces in the market. Today's post is going to be all about sarees and saree brands in India. So here we present the top 10 best saree brands in India that you should consider when buying trendy, stylish, comfortable, and budget-friendly sarees next time. Let's dive deep and explore these awesome brands. Shall We?
List of Best Saree Brands In India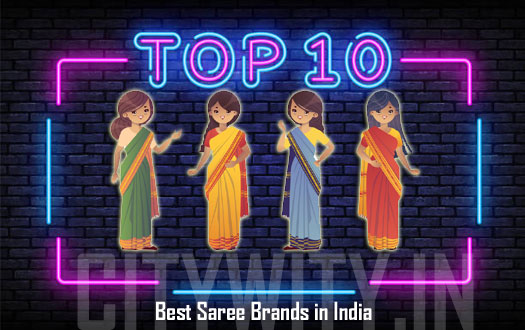 | | | | |
| --- | --- | --- | --- |
| Brand Name | Established Year | CEO | Head Office |
| Nalli Silk Sarees | 1928 | Nalli Kuppuswami Chetti | New Delhi |
| Satya Paul | 1985 | Satya Paul | New Delhi |
| Meena Bazaar | 1970 | Armaan Manglani | Gurugram |
| Kalanjali | 1992 | Vamshi Krishna Neela | Hyderabad |
| Sabyasachi Sarees | 1999 | Sabyasachi Mukherjee | Kolkata |
| Desi Butik | 2016 | Apeksha Shah & Nainish Shah | Delhi |
| Mimosa | 2011 | Naveen Kumar | Bangalore |
| BharatSthali | 2017 | Sumati and Pulkit Gogna | Chandigarh |
| Manish Malhotra | 2005 | Manish Malhotra | Mumbai |
| Tarun Tahiliani | 1987 | Tarun Tahiliani | Gurgaon |
1. Nalli Silk Sarees
Nalli is one of those brands that actually made the textile industry popular in India. In our list, Nalli is for sure the oldest established brand. The fine work on normal fabric and silk sarees are the things that made this brand famous around the country. The catalog of this brand is now one of the biggest in India when it comes to sarees. Especially, the hand-weaved silk sarees were quite an attraction for many women, not only in India but all around the globe. Thus Nalli Silk Sarees also become insanely popular among western audiences, mainly the non-residential Indians. As of now, there are dozens of incredible saree brands present in the Indian market, and with this much competition, the popularity of this brand among Indian women has faded away a little throughout the years.
2. Satya Paul
We couldn't make a list of the best saree brands in India without adding Satya Paul to it. If you're into trendy and designer clothes, and you follow this industry closely, then you may know how big of a name Satya Paul is in this industry. Right? This brand is about to hit its fourth decade after its establishment in 1985, but the overall craze of Satya Paul seems to be increasing every year. Whether it is about buying designer and trendy Sarees, Kurtis, and Clutches, Satya Paul is the prime choice of fashion-conscious women in India. The brand only focuses on three things, delivering a versatile catalog with comfortable wearable items, where a customer doesn't need to compromise with the style factor.
3. Meena Bazaar
Delhi-based saree brand Meena Bazaar made its entry into the Indian market back in 1970. And soon it became one of the most trusted textile or clothing brands, not only in Delhi but all across the country. The digitalization of India also helped brands like Meena Bazaar. Now you can buy their sarees online on every trusted online marketplace. The reason why this brand was able to establish itself in the Indian market is because of the trendiness it was offering at incredibly affordable price points. Today, if you decide to go through their catalog, you will not be able to help yourself and end up buying multiple sarees because of the affordability factor. However, they also sell top-notch, premium sarees, you should look into that as well.
4. Kalanjali
Kalanjali started its journey from the south part of India, but now has become one of the renowned saree brands of India. The top-notch quality silk sarees are the prime reason why Kalanjali is hitting new peaks of success throughout the years. The artistic work on their end products is phenomenal, back in the late 90s and early 2000s, it was quite hard to get your hands on such precious fine textile work. But now, Kalanjali has normalized that thing in the Indian market, no matter if it's about a special occasion or you want a saree as casual wear, Kalanjali has got you covered. The wide variety, the affordable price range, and the world-class work on Kalanjali's sarees are the things that make this brand stand out in the market.
5. Sabyasachi Sarees
When searching for the best saree brands online, you'll find one brand name in the top 5 of every brand list, it is Sabyasachi Sarees. Recently in 2020, this brand hit the mark of 275 crore rupees revenue only from the Indian market. Which is an incredible thing for a saree brand to achieve. It is true that Sabyasachi sarees will cost you a little higher than the usual sarees in the market, but if you want to stand out on a special occasion with your stylish looks, then this is the brand you should go with. In our opinion, it's a perfect choice for buying sarees in the bridal season.
6. Desi Butik
Desi Butik is one of those brands that has done great work spreading Indian fashion and Indian culture all around the world. It started just a few years ago, but the founders were able to establish this brand fairly quickly in India. It is a new brand as compared to others on our list, but the competition it's giving to those other brands is remarkable. Desi Butik is known for the rich looks they offer in their sarees and other clothing items while keeping the price range pretty affordable. One thing is sure, you'll be impressed by the embroidery work on some of their sarees that you won't find with any other brands at this price point.
7. Mimosa
The vibrancy of a saree brand that caught our attention the most is definitely the Mimosa sarees. We have to give credit to the designers of Mimosa for coming up with such versatile designs. You can check out their collection on various online marketplaces quite easily, and the versatility they offer is just amazing. Along with that, you'll be dazzled not only by the designs and fine work on the fabric but by the affordable price range as well. There is just one thing, some of Mimosa's products can't be used as daily wear, however, for special occasions, it's a perfect fit.
8. BharatSthali
Similar to some recent brands we covered in this post, BharatSthali is also a fairly new brand in this industry. After its establishment in 2017, it somehow managed to become the best saree brand in India within a few years. In our opinion, since they're selling most of their products on huge marketplaces online, that is for sure one reason for BharatSthali's success. No matter whether you want sarees for casual wear, weddings, rituals, or any other special occasions, you'll find various options in BharatSthali's catalog. This brand offers the best vibrant designs with maximum possible comfort, so you should definitely give it a try.
9. Manish Malhotra
Those of you who follow Bollywood or Bollywood news closely may already know about Manish Malhotra. In the modern era, Manish Malhotra is definitely the most influential fashion designer in India. Many celebrities, famous influencers, and Bollywood actors and actresses wear designer clothing by Manish Malhotra. If you desire to look classy, sassy, and luxurious for your next special occasion, you should definitely try out Manish Malhotra's incredible collection. But the classy, sassy, and luxurious looks come at a high price, especially when you're going with the most famous and talented fashion designer in the country.
10. Tarun Tahiliani
Before Manish Malhotra started producing some astounding designs, Tarun Tahiliani was the best fashion designer in India. He's still for sure the best fashion designer in India. Many Bollywood celebrities have appreciated the work of Tarun. There was a golden time period for Tarun Tahiliani when he was the prime choice of film and TV serial producers for the best designer costumes for actors and actresses. Tarun Tahiliani is the only brand that offers such incredible saree pieces that you won't find in any other brand's catalog. And if you want that uniqueness to make you stand out on a special occasion, then you have to pay a little higher price for that as well.
Conclusion
Alright, these were our top picks in terms of the best saree brands in India, which we formed after thorough research on the saree and fashion brands. Most of these brands offer a variety of designs with incredible comfortability. But when it comes to the price points, the fluctuation is considerable with most of the brands on our list. It primarily depends upon the type of saree you want, and what reputation that brand has in the Indian market.