After a long, hard day, there's nothing more soothing than a hot cup of tea. Tea drinkers universally acknowledge this to be true. Tea's relaxing properties stem from the fact that it relieves mental and physical stress. Additionally, it's good for your health in many ways. Regardless of the time of day, Indians almost always choose for a cup of tea.
Everyone in India drinks it regularly, whether it's for a break at work or to enjoy with a plate of fried appetisers while watching the rain. As a result, numerous Indian tea companies now offer a wide selection of teas to satisfy the nation's insatiable need.
The Indian people's devotion to their favourite foods and drinks is unparalleled. For the second time in history, India has produced the most tea in the world. Assam alone contributed more than half of the world's tea production, and its indigenous and branded tea business is worth a lot of money.
The regions of Assam and Darjeeling in India are known for producing some of the world's best-tasting and most fragrant tea. Given the plethora of options, choose the best brand might be challenging. The market value of India's domestic tea business exceeds 12,000 Crores, which you may not be aware of. We'll point you in the direction of the greatest Indian tea brands if you're undecided.
List of Top Tea Brands in India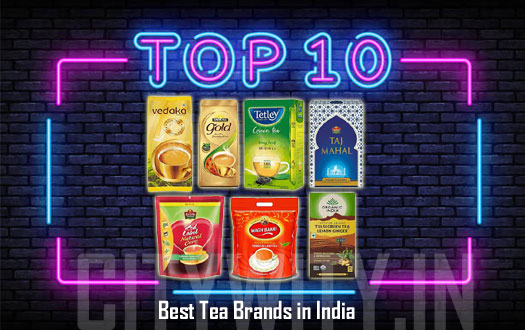 | | | | |
| --- | --- | --- | --- |
| Brand Name | Established year | CEO | Head office |
| Tata Tea | 1992 | Navneet Kar | Kolkata |
| Tetley Indian tea | 1837 | Darbari seth | Bengaluru |
| Taj Mahal tea | 2015 | A yaz Basrai and Zameer Basrai | Mumbai |
| Waghbakari tea | 1915 | Piyush Desai, | Ahmedabad |
| Brooke Bond tea | 2015 | Gajendra Patil | Pune |
| Society tea | 1933 | Karan Shah | Mumbai |
| Lipton green tea | 1890 | Thomas Lipton | Kolkata |
| Pataka tea | 1952 | MUSTAK HOSSAIN and SARIF HOSSAIN . | New Delhi |
| Twinning Assam tea | 1994 | Gias Uddin | Assam |
| Marvel tea | 1994 | Parveen Jain | Gurugram |
1. Tata Tea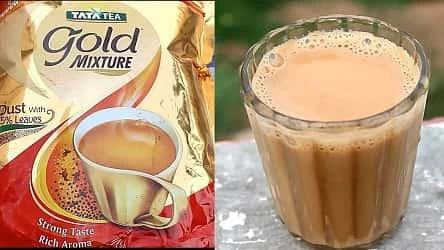 One of the most well-known tea companies in India is Tata Global Beverages Ltd, which has been around since 1964 and is a subsidiary of the Tata Group. Tata Tea currently has the largest proportion of the tea industry in the country. As a result, it has become India's largest tea producer. This explains why they are one of the best tea firms in India and why their stock is traded publicly.
This Indian tea company produces a plethora of different varieties, such as Tata Agni, tata premium, tata gold, tata Taaza, etc
It has a flavour that's of its own, so it'll spice up your tea time without taking away from the calming effect. The environmentally friendly tea is packaged in recycled materials. It lives up to its name of "Desh ki Chai" (Indian Black Tea) because it is among the best of its kind in India.
2. Tetley Indian tea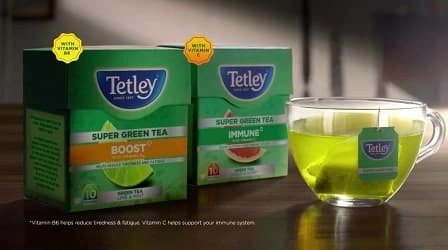 This company producing non-alcoholic drinks was started in 1837 by Joseph and Edward Tetley, brothers. However, today Tata Global Beverages owns Tetley and distributes a variety of the best Indian tea to around 40 nations. It is recognized as the best tasting tea bags in India. Always yearn for a cup of tea made from freshly blended leaves.
It is the number two best-selling tea brand. TATA Tea, having roots in Kolkata, sells a variety of herbal and fruit-infused infusions.
3. Taj Mahal Tea
Four decades of research have shown that the Taj Mahal premium tea supplied by Brooke Bond is the greatest in India. It's so good that it's also called as Brooke Bond tea. The product changed the way tea was sold in India. In India, they introduced the first tea bags, quick tea, and dessert tea. Many well-known people have publicly shown their support for this particular tea brand. Because of this, it is one of the most costly types of tea you can buy in India.
To satisfy the needs of caffeine junkies, a special combination of the finest and rarest leaves in India is dried, stored, and mashed together. If you are a tea aficionado who enjoys high-quality brands, this is the tea for you. You may get Taj Mahal tea in both tea powder and tea bag forms.
4. Waghbakri Tea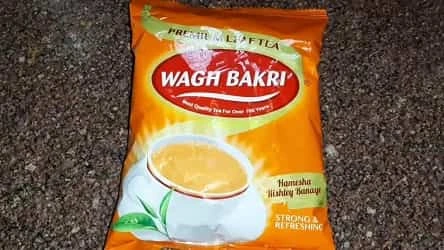 Waghbakri, founded in Ahmedabad and promoted by Gujarat Tea Processors & Packers Ltd., is widely recognized as one of India's most prestigious tea labels. It is the third largest in India, this firm processes and packages tea for sale across the country. The attractions of this tea are its potent aroma and the world's finest tea flavour in India. It's perfect for your early morning or late evening cup of tea. If you're craving tea, this will satisfy that urge with a vengeance.
Tea Bags from the Wagh Bakri Plantation These teas come in a variety of flavors, but the most notable ones are Genuine Darjeeling Tea, the CTC Tea, & Green Tea. In addition, the flavor of its Masala tea turns it a top choice amongst tea powder manufacturers. The powder is a spiced tea.
5. Brooke bond red label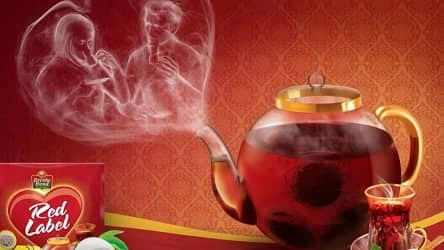 One of the most popular types of tea in India is the Brooke Bond Red Label. Having been in Hindustan Unilever Ltd's possession since 1903, the company has established a strong foothold with in Indian tea market. Thus, it has become a common term because it can be purchased at any shop in India.
Red Label Naturals is one of the other varieties of this greatest tea brand in India, and it features a number of different medicinal herbs as its primary constituents.
6. Society Tea
Hasmukhrai & Co., purveyors of India's finest tea, entered the market in 1933. The company originates from Mumbai, and it manufactures both loose tea and tea bags. Society tea has become one of the most popular brands of tea in India and around the world due to its exquisite flavour and scent.
Darjeeling Tea, Dust Tea, Assamese CTC Tea, & Leaf Tea are just few of the Society teas or tea-based infusions that can be found in stores. Therefore, tea junkies can pick and choose which varieties of this brand they like best. This is the tea to get if you want to drink the finest possible cup of tea while in India.
7. Lipton Tea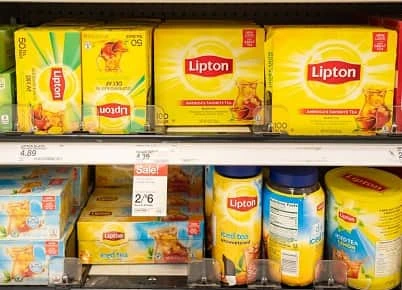 Which green tea variety in India is the most effective for slimming down? You can find the answer here:
Back around 1890, Thomas Lipton started a tea company called Lipton. However, Unilever now controls this global tea brand, which has become one of India's most well-known tea producers. In excess of a hundred countries stock it and make it easy to get your hands on. The tea items made by the company are affordable and pleasant.
In addition, it is widely recognized as India's premier green tea. Because of this, most people who are serious about their health and fitness choose this company's green tea because it is the best available. Notable alternatives to Lipton Black Label include Lipton Yellow Label & Lipton Iced Tea.
8. Pataka Tea
Pataka Group first sold their namesake tea in India in the year 2000. It produces some of India's finest black tea. This new Indian tea brand is getting a lot of traction in the country's less-populated areas because it's not a particularly pricey tea in India.
9. Twinning Assam Tea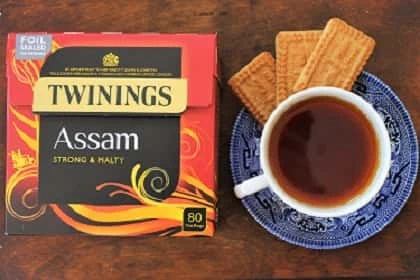 Assam tea is recognized for its robust flavor and malty quality. All of the ingredients in a cup of Twining Tea have been carefully combined to create a perfect harmony of flavor, aroma, and taste. With a focus on quality and the belief that a tiny cup of tea can provide a moment of calm, this company creates teas that are blends of teas from various origins, each of which offers a different experience.
Additionally, the company ensures the safety of their employees all around the world and raises their wages by providing agricultural expertise to the farmers to boost their output.
A group of highly trained experts work together to develop the formula for this well-known tea brand. Only the best gardens produce this particular brand of tea.
10. Marvel tea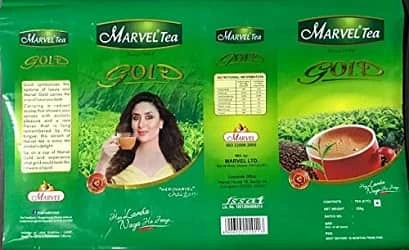 You can get your hands on a variety of Marvel Tea tastes and varieties. Founded by the Jain Brothers in 1994, Marvel Group has since grown to become one of India's most prestigious corporations.
The tea comes from the best Assam and Darjeeling gardens, and the quality is monitored on a regular basis. The leaves remain unharmed throughout the entire, automated packing process used by the business. The antioxidants in the tea help you feel more refreshed by relieving tension in your mind and body.
Conclusion
Don't go anywhere else if you want to satisfy your thirst for tea in India, whether it is with a well-known tea brand or a green tea brand that is good for you. Some of the best tea in the world comes from India. Also, don't forget to try out our recommendations mentioned above.