The prestigious land of the royals-Rajasthan is shrouded in heritage, world-famous monuments, ornate temples, aesthetic forts and, grandiose palaces. It is a great place to unravel the mysteries of the glorious past when great Rajput warriors used to rule the lands. Rajasthan Packages boasts of beautiful lakes, vast landscapes, deserts and unmatched culture. Pink City has become the hotspot for globetrotters with its Insta-worthy forts, glittering markets and oh-so-yum -street food. This capital city is known for a litany of places to visit including City Palace, Hawa Mahal, Amber Fort and Nahargarh Fort. The Blue City of Rajasthan is located at the end of the Thar Desert and is known for its largest fort Mehrangarh. A visit to Mehrangarh Fort is a must on the travel itinerary as the fort houses a majestic mirrored hall, Chamunda Mataji Temple and Zanana Deodi. The Dargah Sharif in Ajmer is the tomb of Sufi Saint Khwaja Garib Nawaz Moinuddin Chisti and has been a major pilgrim site since the time of the Mughals. Visit the abode of God, the" Spice Capital of India" – Kerala with the Kerala Packages known for its natural environment, backwaters, rich biodiversity as well as cultural heritage. Alleppey is famed for its backwaters and a cruise on a houseboat as you view the scenic beauty of the landscape and feel refreshed. Munnar the famous hill station has mountain slopes that are decked with miles and miles of green tea farms.
Kumarakom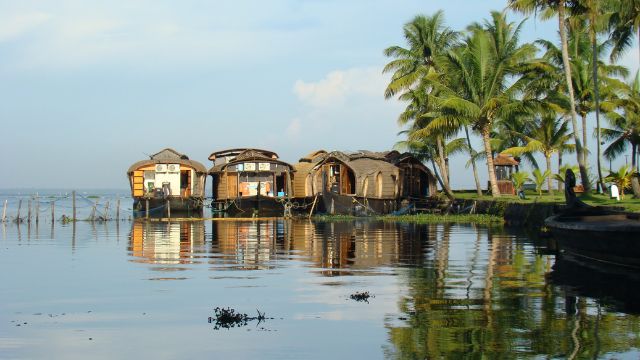 A top-ranking place to visit with Kerala Packages is Kumarakom. It is a quaint village in Kerala perfect for spending a quiet and rejuvenating vacation as you enjoy sipping on coconut water, relishing authentic Kerala food and enjoying the backwaters. Kumarakom is situated near Vembanand Lake and has unique flora and fauna. The place has several fun activities to indulge in like boating, fishing and cruising on a houseboat. With a perfect name Kumarakom Bird Sanctuary is a birdwatcher's paradise situated near the backwaters. Get acquainted with migratory birds including Siberian Stork and Kingfisher. Encompassed by rubber plantations is the Aruvikkuzhi Waterfall. Popular among youngsters who seek refuge from the bustling daily life is a feast for the eyes and ideal for picnics and trekking. Vembanad Lake is the glory of the city as it is the convergence point of ten rivers. The famous Nehru Trophy Boat Race takes place in the flowing water of the lake in the month of August every year.
Jodhpur
The former capital of the Marwar region Jodhpur is the second largest city in Rajasthan. This Rajasthan Packages destination is fondly known as the "Blue City". Mehrangarh also known as Mehran Fort was built by Rao Jodha in 1459 and happens to be the largest fort in the country. It is located at the top of a 410 feet elevated hill and is guarded by massive walls. The entrance of the fort, atop a hill, is opulent and has seven gates. Each of these was built at different times and served a very specific purpose. One still bears the marks of cannon balls while the other has spikes that can protect it from animal and elephant attacks. Umaid Bhawan Palace is a major tourist attraction besides being a heritage hotel has a museum and is the residence of the Royal Family and present owner Raja Gaj Singh. The palace was built in Beaux-Arts style and has two wings. Makrana marble, Golden yellow sandstone and Burmese Teak wood were used for intricate woodwork inside the palace. Toorji ka Jhalra built in 1740 is the stepwell of Jodhpur and one of the remaining façades depicting water management.
Kochi
Located on the Malabar coast this tourist hotspot of the Kerala Packages Kochi is a port city also known as " Queen of the Arabian Sea". Kochi still holds on to its old-world charm with Dutch and Portuguese buildings like Harbour House, Bolgatty Palace, Jewish Synagogue and Mattancherry Palace.  Kochi also known as Cochin houses a group of islands and lagoons which are interconnected and can be traversed by ferries. Willingdon Island in Kochi is one of the largest man-made islands in India and it also harbours an active naval base and an air squadron of the Indian Navy. Kochi -Muziris Biennale is an international exhibition of contemporary art and is set around different areas of Kochi including heritage buildings, galleries, halls and public parks. Built in 1865 the Hill Palace Museum consists of forty-nine buildings in traditional architectural form and covers an area of fifty-four acres. It was once the Imperial Administrative office and official residence of the Maharaja of Cochin. St Francis Church in Kochi is a fine example of Portuguese architecture and is believed to be one of a kind amongst European churches. It was constructed in the fifteenth century by Portuguese traders and Vasco -Da -Gama was buried when he died in 1524.
Kumbhalgarh
Enjoy a vacation at this World Heritage Site with the Rajasthan Packages. Kumbhalgarh is a Mewar Fortress and is the second largest fort in India after Chittorgarh. It covers an area of 12 square km and the walls of the fort stretch over an area of about thirty -six km. It is one of the longest walls in the world, second only to China's Great Wall. Kumbhalgarh was built during the reign of Rana Kumbha in the fifteenth century and is located eighty-two km from Udaipur and happens to be perfect for a one-day trip. It lies on a hilltop which is 1100 m above sea level. The gate of the fort is gigantic and is also known as Ram Gate or Ram Pol. Kumbhalgarh Fort comprises around seven gates and a total of three hundred and sixty temples out of which three hundred are ancient Jain temples while the rest are Hindu. Neelkanth Mahadeo Temple is dedicated to Lord Shiva and is situated within the vicinity of the fort. It has a six feet high Lingam and is one of the few being maintained and worshipped by the locals. The fort is full of stories about the king, the temple and numerous chambers which keep the tourist captivated and lost in time.
Wayanad
The next attraction of the Kerala Packages is Wayanad. It is known for its historical caves, waterfalls, cosy and comfortable resorts and homestays. Located on the Western Ghats it quenches the thirst of all kinds of travellers with its blissful weather and evergreen landscapes. Meenmutty Waterfalls are among the best waterfalls in Kerala which offer a delightful experience to visitors of all age groups. This three-tiered waterfall is encompassed by green forests and cascades from a height of one thousand feet. To reach the waterfalls one needs to trek through the dense jungles for nearly two km which is an experience in itself. The highest mountain peak in the Wayanad hill range is Chembra Peak. It invites the admirers of nature not only to adore its majestic beauty but also to enjoy a spectacular view of Wayanad, Nilgiri, Malappuram and Kozhikode district from a height of two thousand and one hundred m above sea level. Wayanad Wildlife Sanctuary also known as Muthanga Wildlife Sanctuary is a haven for wildlife enthusiasts as it is home to a wide variety of fauna. Which includes Tigers, Leopards, Elephants, Jungle Cats, Indian Bison and Deer. The visitors can also spot endangered species of birds, butterflies and insects along with rich flora which is no less than a treat to watch.
Bharatpur
Located in the Braj region this Rajasthan Packages destination is thirty-eight km from Mathura. It is known for its well-renowned Keoladeo National Park which is the habitat of over three hundred and seventy species of birds and animals. The national park is recognised as one of the popular breeding and feeding grounds for birds. In 1982 the park was recognised as a National Park and by 1985 it was featured on the list of UNESCO World Heritage Sites. It is locally known as " Ghana" and has been the winter home for the Siberian Crane which is considered an endangered species. Bharatpur was once ruled by myriad rulers from Nizams to Jats to British Imperialists but it has its glorious history, enshrined in places like Lohagarh Fort.