Discover an array of captivating experiences in Bangkok, Thailand, that are perfect for a memorable adventure with friends. Begin your journey at Dream World Bangkok, an extraordinary amusement park offering exhilarating roller coasters and refreshing water attractions, along with a snow-covered wonderland in the heart of the tropics. At Safari World Bangkok, explore an open zoo where you can get up close to exotic animals in their natural habitats and enjoy entertaining marine animal shows.Delve into Thailand's rich cultural heritage by visiting the iconic Grand Palace and Wat Phra Kaew, housing the revered Emerald Buddha.
Experience tranquility at Wat Pho, famous for its colossal reclining Buddha statue and traditional Thai massages. Shopaholics and food enthusiasts will love the Chatuchak Weekend Market, while Asiatique the Riverfront offers picturesque dining and shopping by the Chao Phraya River. Discover the artistry of Thai craftsmanship at the Jim Thompson House, escape to nature at Lumphini Park, and embrace the nightlife on Khao San Road. Conclude your adventure in Bangkok's vibrant Chinatown, where you can savor delectable street food and immerse yourself in its lively culture during festivals like Chinese New Year.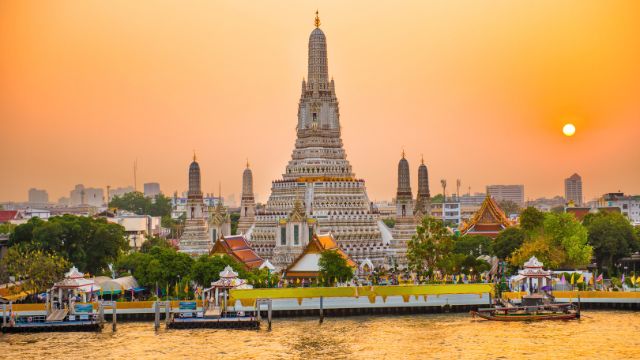 Dream World Bangkok: Dream World Bangkok is an extraordinary amusement park that guarantees an unforgettable day filled with exhilaration and joy. This enchanting destination boasts a diverse range of thrilling rides, from heart-pounding roller coasters that will satisfy adrenaline junkies to invigorating water attractions for those seeking refreshment. What sets Dream World Bangkok apart is its Snow Town, an incredible winter wonderland nestled in the heart of tropical Bangkok. Here, you and your friends can revel in the surreal experience of playing in the snow, making snowmen, and having epic snowball fights.
Safari World Bangkok: Safari World Bangkok presents an unparalleled fusion of adventure and enlightenment. This remarkable attraction seamlessly blends the thrill of encountering exotic animals in their native habitats with educational experiences. The open zoo offers a unique opportunity for you and your friends to get up close to a diverse array of wildlife, fostering a deeper understanding of their natural behaviors and environments.Moreover, Safari World Bangkok's marine park is a captivating showcase of entertaining animal performances. Here, you can witness the remarkable intelligence of dolphins and the playful antics of seals.
Grand Palace and Wat Phra Kaew: The Grand Palace and Wat Phra Kaew are iconic landmarks steeped in history and culture. The Grand Palace, with its ornate architecture and intricate details, showcases the opulence of Thailand's monarchy. Within its grounds, Wat Phra Kaew houses the revered Emerald Buddha. Visiting this complex allows you to appreciate Thailand's rich heritage and witness awe-inspiring craftsmanship.
Wat Pho: Wat Pho, the serene Temple of the Reclining Buddha, provides a tranquil escape amidst Bangkok's bustling urban landscape. Its crowning jewel is the colossal reclining Buddha statue, an awe-inspiring sight that demands admiration. Towering at 46 meters in length and plated in gold leaf, it's a testament to Thai artistry and spirituality. Beyond this magnificent statue, Wat Pho is renowned for its traditional Thai massage school. Here, visitors can indulge in the ancient healing art of Thai massage, allowing them to unwind and rejuvenate amidst the temple's peaceful ambiance.
Chatuchak Weekend Market: Chatuchak Market, a shopaholic's dream and a haven for food enthusiasts, ranks among the world's largest weekend markets. This bustling marketplace is a treasure trove of diverse offerings, spanning from trendy clothing and accessories to exquisite home decor and rare antiques. But Chatuchak isn't just about shopping; it's equally celebrated for its vibrant street food scene. As you navigate through its maze-like alleys, you'll encounter aromatic stalls dishing out delectable Thai cuisine, from flavorful curries to tantalizing grilled meats.
Asiatique the Riverfront: Asiatique the Riverfront is a captivating destination nestled along the scenic Chao Phraya River. This open-air mall seamlessly blends shopping, dining, and entertainment, making it an ideal spot for a delightful evening with friends. You can revel in the breathtaking river views, be entertained by cultural performances, and explore a plethora of dining options offering both local and international cuisines. Asiatique's unique ambiance combines modernity with a touch of tradition, creating a charming atmosphere that's perfect for leisurely strolls and memorable gatherings with friends.
Jim Thompson House: The Jim Thompson House is a captivating blend of art, culture, and history. It's the former home of Jim Thompson, an American silk entrepreneur who played a significant role in reviving the Thai silk industry. The house itself is a masterpiece of traditional Thai architecture, surrounded by lush gardens. Visitors can learn about silk production and appreciate the artistry of Thai craftsmanship.
Lumphini Park: Nestled amidst the bustling metropolis of Bangkok, Lumphini Park stands as an oasis of serenity and greenery. This expansive urban park offers respite from the city's hustle and bustle. Visitors can rent paddleboats for a leisurely ride on the tranquil lake, embark on invigorating jogs along scenic paths, or simply unwind on the lush grassy expanses. It's a haven for nature enthusiasts and a perfect locale to share with friends, providing a soothing escape where one can reconnect with nature, relax, and rejuvenate in the heart of this vibrant city.
Khao San Road: Khao San Road is the epicenter of Bangkok's nightlife scene. It's a bustling street lined with bars, clubs, street food stalls, and vendors selling everything from clothing to quirky souvenirs. It's the perfect place to dance the night away, sample local street food, and immerse yourself in the vibrant atmosphere of Bangkok after dark.
Chinatown: Bangkok's Chinatown is a sensory delight. The vibrant streets are a treasure trove of delicious street food, bustling markets, and ornate temples. Exploring the area, especially during Chinese festivals like Chinese New Year, offers a unique cultural experience. Don't miss trying the delectable dishes, from dim sum to exotic delicacies, that this district has to offer.