Embarking on a family adventure in Asia offers a plethora of captivating experiences, and among them, water parks stand out as a perfect blend of fun and rejuvenation. With a diverse array of attractions catering to both young and old, these water parks provide an ideal getaway for families with kids.
From heart-pounding slides to relaxing lazy rivers, Asia boasts a selection of top-tier water parks that promise unforgettable moments. Whether you're seeking thrilling aquatic adventures or a tranquil escape under the sun, these best water parks in Asia ensure that both parents and children create cherished memories amidst the splashes and laughter.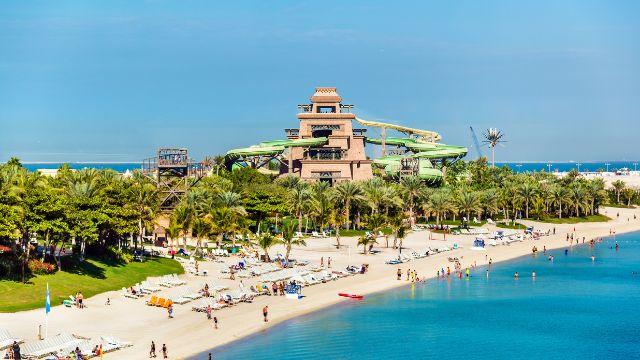 1. Atlantis Aquaventure: Atlantis Aquaventure stands as one of Asia's premier water parks for families. Situated in Dubai, it guarantees an unforgettable aquatic escapade. With its thrilling slides, lazy rivers, and kids' play areas, the park ensures endless entertainment. Book your Atlantis Aquaventure tickets and explore its numerous attractions, from heart-pounding rides to tranquil pools, all amidst a captivating marine-themed environment. It's the ultimate destination for an action-packed, joy-filled day with your kids, making memories that will last a lifetime.
2. Adventure cove waterpark: For an exhilarating family experience, Adventure Cove Waterpark stands out among Asia's top water parks. Located in Singapore, it promises a day filled with excitement and wonder. With its array of water slides, snorkeling opportunities, and interactive marine exhibits, the park offers non-stop fun. Make sure to book your Adventure Cove Waterpark tickets, granting you access to a world of aquatic thrills and discoveries. Create lasting memories with your children as you dive into a realm of aquatic adventures and entertainment.
3. Waterbom Bali: Waterbom Bali stands as one of Asia's finest water parks for families. Nestled in Indonesia, it offers an enchanting tropical atmosphere along with a variety of exhilarating slides and pools. From heart-pounding rides to tranquil relaxation areas, Waterbom Bali ensures a balanced experience for all ages. Book Waterborn Bali tickets and explore its lush surroundings and thrilling attractions, it's the perfect destination to create lasting memories with your kids while enjoying the ultimate aquatic adventure.
4. Ramayana Water Park: When looking for family-friendly water parks in Asia, consider Ramayana Water Park. With a myriad of thrilling water slides, wave pools, and a lazy river, it ensures a day of endless fun. Book your Ramayana Water Park tickets for an exciting aquatic adventure. Catering to all ages, the park's attractions promise a memorable experience. From exhilarating rides to relaxing water features, Ramayana Water Park offers the perfect blend of excitement and relaxation, making it a fantastic choice for creating unforgettable moments with your kids.
5. Siam Park: Siam Park City, located in Bangkok, is an exceptional water park for families in Asia. With an array of exhilarating water slides, a wave pool, and an artificial beach, it promises a day of non-stop entertainment. Grab your Siam Park tickets and explore the  park's diverse attractions cater to all age groups, ensuring a fun-filled adventure for kids and adults alike. The blend of aquatic thrills and the park's unique features make Siam Park City an ideal destination to create cherished memories with your family while experiencing the best of water park excitement.
6. Yas Waterworld:When it comes to kid-friendly water parks in Asia, Yas Waterworld is a standout choice. Located in Abu Dhabi, it offers a diverse range of water attractions, ensuring a day filled with excitement. Don't forget to book your Yas Waterworld tickets for an unforgettable aquatic adventure. With rides suitable for various ages and a unique blend of entertainment, the park guarantees a memorable experience for the whole family. From thrilling slides to immersive experiences, Yas Waterworld provides the perfect setting to create cherished memories with your kids.
7. Sunway Lagoon– Sunway Lagoon, an iconic water park in Asia located in Malaysia, offers a diverse range of attractions for all ages. From adrenaline-pumping water slides to a relaxing surf beach and a wildlife park, it guarantees an unforgettable family adventure. The park's themed zones cater to different interests, ensuring everyone's enjoyment. With its thrilling rides, engaging experiences, and unique offerings, Sunway Lagoon stands out as a top destination for families seeking a well-rounded and exciting water park experience in the heart of Asia.
8. Wet'n'Wild: Wet'n'Wild Gold Coast, located in Australia, is a premier water park that promises an unforgettable experience for visitors from Asia. With a perfect blend of exhilarating slides, pools, and relaxation areas, it offers a day of non-stop fun. Secure your Wet'n'Wild Gold Coast tickets to dive into a world of aquatic adventures. From heart-pounding thrills to serene moments, the park caters to all ages, making it an ideal destination for families seeking excitement and relaxation amidst the captivating landscapes of Australia's Gold Coast.
9. Aquaria Water Park: Aquaria Water Park nestled in Asia, stands as a fantastic destination for water enthusiasts. Offering a mix of thrilling slides, refreshing pools, and water-based activities, it guarantees an enjoyable experience for visitors of all ages. From heart-pounding rides to leisurely floats, the park's attractions cater to various preferences. With its inviting ambiance and diverse offerings, Aquaria Water Park provides a delightful opportunity for families to unwind, have fun, and create lasting memories in the vibrant world of water-based entertainment.
10. Ocean Water Park Adventure: Ocean Park Water Adventure, located in Asia, is a top choice for families seeking aquatic fun. With a fusion of exciting water attractions and marine encounters, it promises an engaging experience. From thrilling slides to immersive marine exhibits, the park ensures a diverse adventure for kids and adults. Ocean Park Water Adventure's blend of entertainment and education offers a unique opportunity to create cherished family memories while exploring the wonders of the ocean. It stands as a remarkable destination where both enjoyment and learning come together in a captivating aquatic environment.