As the winter rolls around in the Indian subcontinent, in some parts of the country, it becomes almost unbearable and freezing cold, especially in the peak winter months. At that time of the year, you have to wear multiple layers of clothing to keep yourself warm. And as you may already know how hard it is to move around multiple layers of clothing. Especially when you also need to stay like that when you are inside your house. Doesn't sound very impressive, right? Well, that is exactly why things like room heaters exist, which you can just set up in a room and get relief from freezing cold temperatures.
However, when you head over to the market to buy a room heater, you'll come across another challenge to select the right brand. That's because there are literally dozens of room heater brands in the Indian market. But worry not, we are here to say this by presenting the list of the top 10 best room heater brands in India for 2023. So, without wasting any time, let's get down to this thorough list. Shall we?
List of Top Room Heater Brands In India
1. Orient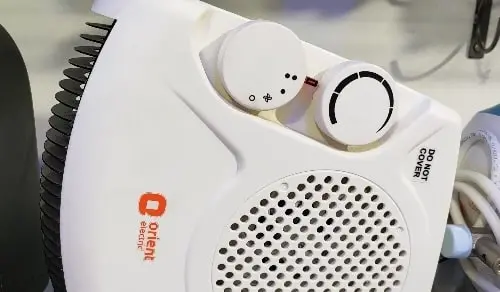 Orient is this big multinational equipment manufacturer and home appliance company in India. They sell all sorts of electronic and electrical items like fans, home appliances, geysers, lighting solutions, and of course, room heaters as well. If you just want a typical room heater with a fan, then Orient should be your go-to brand. That's only because Orient offers decent-quality room heaters at a really affordable price point. On top of that, you also get a lot of safety features within the room heater by this brand, which means you'll be able to enjoy the warmth without any worry of short circuits or overheating issues. Not just that, you can also mount these heaters as well, both horizontally and vertically as well.
2. Orpat
Orpat is actually a brand operated by the Ajanta LLP company. And just like Orient, Orpat is also a brand that sells different sorts of electronics and electrical items like fans, switches, lighting solutions, home appliances, and whatnot. If you want to buy an affordable room heater for your house, then you should definitely consider Orpat's room heaters. We are saying that because Orpat is the best-selling brand when it comes to room heaters in India. There are literally thousands of positive ratings given to this brand's room heaters on Amazon and Flipkart. So yeah, if you are on a tight budget and don't want to compromise with the quality factor then without a doubt, go with Orpat room heaters.
3. Havells
Havells is a really big deal in India, especially because of the safety features of all things electronics-related. Havells became popular in the Indian subcontinent because of their super-safe and energy-efficient house wiring, but later on, people started realizing how amazing their other products are. So if you are someone looking for an excellent room heater and don't have any budget restrictions, then without a doubt, we'll recommend you to consider Havells over the other brands. Havells' oil-based room heaters are by far the best in the Indian market, and if this post had been about those, then we might have kept Havells on the top spot of this list.
4. Solimo
When shopping on Amazon, you may have seen many products appear in the search results from this brand. Right? Well, that's because Solimo is actually an Amazon brand. What they do is they simply replicate the best-selling products on their platform and release them under such brand names, and Solimo is mainly for the electronics items. That is the prime reason why you'll find most of the Solimo products priced a little lower compared to all the other brands, but you as a customer don't need to compromise with the quality when buying products from this brand. The same goes for when buying room heaters from this particular brand in India. Isn't that impressive?
5. Bajaj
There once was a time when Bajaj used to dominate this particular segment of the market, however still, it is one of the biggest players in the game, but now there is too much competition within this niche. However, Bajaj still holds a special place among Indian customers' hearts as a reliable brand when it comes to electronics items or products. The same goes for their room heaters as well. Just like many other brands on our list today, Bajaj also sells different types of room heaters, from really budget-friendly ones to top-tier oil-based room heaters as well. Compared to other cheap brands on Amazon and Flipkart, the build quality and overall heating performance of Bajaj room heaters are somewhat impressive.
6. USHA
Usha is another brand that has earned good respect in the Indian subcontinent because of their reliable and robust products. Most of you may know this brand as just a sewing machine brand, but in reality, Usha is way more than that. They sell all sorts of electronic stuff, from home appliances to lighting solutions, fans, and much more. And if you are looking forward to buying a budget-friendly yet high-quality room heater then Usha has got that too. Plus, you don't even need to spend too much on a Usha room heater because they are priced at really competitive rates in the market, and online marketplaces like Amazon and Flipkart as well.
7. Morphy Richards
Morphy Richards is actually a foreign brand, but as of now, the services and products of this brand are marketed by Bajaj Electricals Limited. If you were in search of the sleekest and stylish looking room heater that doesn't hinder your room's overall appearance then you've gotta check out the Morphy Richards room heaters. We specifically want to give a shout-out to their OFR root heaters that are incredible for a decently large room and the heat from this line of heaters remains for quite a while in the room. But, with such room heaters, make sure you don't have a tight budget because the room heaters from Morphy Richards cost a little more than other brands on this list.
8. Crompton
In recent times, Crompton has become more and more popular in the Indian market, mainly because of their superior quality water pumps. But their room heaters are phenomenal as well, just like their other lineup of products. If you were in search of a budget-friendly room heater that heats up a room real fast then you should check out Crompton's InstaCozy room heater. This particular room heater comes with several halogen tubes inside with slightly longer lengths, and that's the main advantage here. On top of that, this InstaCozy room heater is super affordable, you can literally buy it under 2000 rupees in India.
9. Inalsa
Then there are Inalsa room heaters, the rising stars within this particular segment of the electronic market in the country. It may cross your mind that the Inalsa brand is a somewhat newer one, but you'll be surprised to know that this brand was established way back in 1967. This brand is actually big on home appliances, and they have been making quite the way in the Indian market because of that. Talking about the room heaters they sell, you can find different types of room heaters from this brand in the Indian market, from basic halogen tube ones to higher-end oil-filled heaters.
10. Lifelong
Then there are Lifelong room heaters. Compared to all the other brands on this list today, Lifelong is probably the newest one we have included. This brand started its journey back in 2015, and it became quite a hit within a year or two. As you may already know the home appliance market is a supersaturated one, but Lifelong was able to carve out a space in this niche pretty easily. And talking about their room heaters, Lifelong is known for being the most affordable fan room heaters in India. Since this brand offers super affordable room heaters with decent build quality and a warranty period, that is why thousands of people have rated their room heaters with positive ratings on marketplaces like Amazon and Flipkart.
Conclusion
There you have it. Remember that each of these brands offers various types and models of room heaters. So yeah, do some of your own due diligence before buying any room heater from these brands. We advise you to consider things like the watts, type of room heater, build quality, etc.