Ethnic attire is always beautiful, stylish, and fashionable. But it looks classy and modern by the way you carry the outfit. From the selection of fabric like floral print organza fabric to accessories such as chokers, every element plays a significant role. Making a small mistake will ruin your entire outlook.
You can take your attire to the next level and impress everyone at first sight with little details. Are you thinking about how to achieve an effortless ethnic look? Look at the top stylist's tips mentioned below. It gives you some ideas and helps achieve your statement ethnic look easily.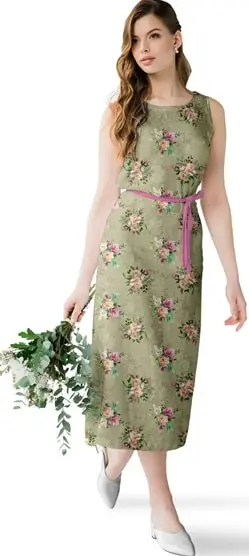 Stylist tips to look stylish in ethnic wear
● Pick bold color floral printed kurta
A floral printed kurta is a versatile piece of ethnic wear that every girl should have in her wardrobe. It suits all occasions, whether it is a formal event or a casual gathering. The kurta is often made of lightweight floral print organza fabric.
Make sure you choose a bold color floral printed kurta such as navy blue and maroon because it elevates your appearance. Pairing a floral print kurta with leggings, jeans, and a skirt looks awesome.
● Go for Palazzo
Churidar is a timeless and classic piece of Indian ethnic wear. However, Palazzo pant is the trending bottom wear to achieve an effortless ethnic look. It becomes a chic alternative to the churidar and renders tons of benefits for the wearer.
Palazzo is extremely comfortable to wear, looks awesome on all body types, and is highly versatile. One can wear Palazzo with the statement top and heels for a night out. Or even wear it with a simple kurta and flats for daytime wear.
● Experiment with different cuts
Another great way to carry an ethnic look is by trying different cuts. Instead of preferring the same pattern and designs, try different styles for a unique look. Here are a few recommendations from the top stylists.
o   Go with the high-low kurtis with straight or cigarette pants.
o   Wear shararas with the short kurtas that look great for a family function.
o   Choose asymmetrical kurtas with printed culottes
Irrespective of your preferred cut, ensure you feel comfortable in that outfit to get the stylish ethnic look effortlessly.
● Play with prints and colors
The right print and color selection are the secret sauce for a chic look for any occasion. You can prefer the outfit made from the Ajrak print fabric because it is airy and cozy during summer and provides warmth during winter. It helps you carry a statement look in any climatic condition without trouble.
Regarding color, go for the white, floral, and pastel colors to look unique in summer. It boosts your skin color and brings a natural glow. You can prefer abstract or geometric prints for a formal yet modern touch.
● Choose the right footwear and accessories
An ethnic look is not complete without the right footwear and accessories. You can pair your ethnic wear with heels and flats conveniently. Choose embellished juttis, kolhapuris, mini chokers, and long earrings. It boosts your overall look and adds uniqueness to your outfit.
Mistakes to avoid when carrying an ethnic look
While wearing ethnic wear, people often make a few mistakes that become fashion faux pas. Here are those mistakes you must try to avoid. Or else you cannot carry your dream ethnic look.
Be careful when choosing a fabric because it is a key to achieving the ethnic look. One of the biggest fashion mistakes is wearing raw silk in summer and a cotton suit in winter. Consider the season, body shape, and comfort when picking up fabric like Ajrak print fabric.
The second mistake is opting for the wrong attire for the occasion. Never wear bold color dress for all occasions. If it is a religious ceremony, go for a saree gown. Kurta and Jean are enough for a friend's outing.
Never follow fashion mindlessly because everyone's body and skin color are different. Analyze your body shape and skin texture before choosing an outfit. Of course, it is good to try new styles, but ensure that the style suits you perfectly.
Not dressing according to your body type is the major mistake people commit when wearing ethnic outfits. You must choose the best floral print organza fabric that improves your look and personality. Wearing the outfit that defines your body shape is always welcoming. For example, go with prominent prints for the bottom if you have a bigger bust.
Avoid compromising on the fit because it ruins the whole look. Too tight or loose an outfit kills your effort. So, experiment before you choose the perfect fit outfit to carry the confident ethnic look.
Finally, avoid visible lingerie because it spoils your entire look. Always buy and wear nude or skin-colored underwear and the right size bra. Prefer a strapless bra if you wear an off-shoulder or boat-shaped neckline.
Conclusion
Now, you learn many things regarding how to carry an ethnic look elegantly and effortlessly. Follow the stylist's tips properly and dress up awesome for your next occasion. At the same time, do not forget the mistakes to avoid when choosing Ajrak print fabric and wearing ethnic outfits. It will help you look fabulous and stylish.