CLAT 2024 Syllabus for UG and PG programs has been published by the Consortium of National Law Universities (NLUs). CLAT Syllabus consists of five sections: English Language, Current Affairs and General Knowledge, Legal Reasoning, Logical Reasoning, and Quantitative Techniques. There are 150 questions with a total duration of two hours.
CLAT English Language section will contain various passages and candidates need to answer the questions related to the passage. In this section, candidates must focus on grammar, vocabulary, and comprehension.
The candidate's knowledge of national and international events, sports, awards, and other relevant topics will be tested in the CLAT Current Affairs and General Knowledge section.
CLAT Legal Reasoning section will contain questions related to the legal propositions and a set of facts. Candidates must focus on the application of legal principles to hypothetical situations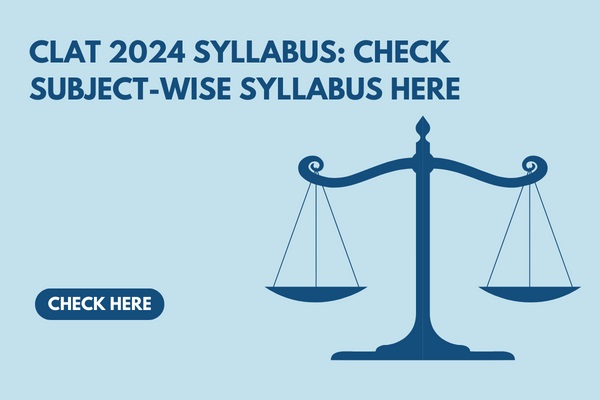 In the CLAT Logical Reasoning section candidate's ability to recognize patterns, make logical connections, and deduce logical implications will be tested in Logical Reasoning. Analogies, syllogisms, and logical sequences will be included in the section.
In the CLAT Quantitative Techniques section candidates need to answer questions related to basic arithmetic, algebra, mensuration, and statistical estimation.
CLAT 2024 syllabus must be well-understood by candidates and they should practice regularly to prepare for the CLAT Exam.
CLAT 2024 Subject Wise Syllabus
CLAT 2024 Subjectwise Syllabus is given below:
CLAT 2024 English Language Syllabus
 Important topics that will be covered in this section are as follows:
Correcting Incorrect Grammar Sentences: Candidates will be tested on their ability to identify and correct sentences with grammatical errors, focusing on topics like subject-verb agreement, sentence structure, and usage of articles, among others.
Synonyms & Antonyms: This part will assess candidates' vocabulary, synonyms (words with similar meanings), and antonyms (words with opposite meanings).
Tenses: Questions related to tenses will gauge candidates' understanding of different verb forms and their correct usage in sentences.
Fill in the Blanks: In this section, candidates will be required to fill in the missing words or phrases in sentences, based on context and grammar rules.
Spotting Grammatical Errors: Candidates will be asked to identify and correct grammatical errors within sentences
Active & Passive Voice: This part will assess the candidate's knowledge of converting sentences from active voice to passive voice and vice versa.
CLAT 2024 Legal Reasoning Syllabus
This section evaluates the candidate's comprehension of legal terminology, the Indian Constitution, legal maxims, landmark judgments, and current legal events. The section covers the following essential topics:
Legal Maxims: Candidates will be tested on their knowledge and understanding of significant legal maxims that are commonly used in legal contexts.
Important Supreme Court Judgments: It tests candidate's awareness of landmark judgments delivered by the Supreme Court of India, which have had a significant impact on the legal landscape.
Legal GK (General Knowledge): Questions related to legal general knowledge will be included, testing candidates' knowledge of legal concepts, institutions, and processes.
Indian Constitution: Candidates should be well-versed in the Indian Constitution, its salient features, fundamental rights, directive principles, and the structure of the government.
Important Acts and Amendments of the Legislature: This topic examines candidate's knowledge of crucial laws, statutes, and amendments made by the legislative bodies
Current Affairs: This section focuses on recent legal events, important court rulings, and legal developments in India and around the world.
CLAT 2024 Logical Reasoning Syllabus
CLAT LR Syllabus includes the following important topics:
Analogies: Candidates will encounter questions that require them to identify and understand relationships between different elements, based on similarities or comparisons.
Relationships: This topic focuses on assessing candidates' ability to recognize and establish relationships between various elements, such as words, numbers, or concepts.
Syllogism: Candidates will be tested on their logical reasoning skills through questions involving syllogisms, which involve drawing conclusions from given premises.
Cause & Effect: This part assesses candidates' capability to determine causal relationships between events or situations and identify the outcomes or effects of specific actions.
Premises & Conclusion: Candidates will encounter questions where they need to evaluate given premises to arrive at valid conclusions or inferences.
Inferences: This topic evaluates candidates' aptitude to draw logical inferences based on the information provided in the questions.
CLAT 2024 Mathematics Syllabus
The section includes the following important topics:
Algebra: Candidates will need to focus on questions related to algebraic expressions, equations, and operations on variables.
Profit and Loss: This topic tests candidate's understanding of calculating profit and loss in business transactions.
Time and Work: Questions in this area assess candidates' ability to solve problems related to the time taken to complete tasks when multiple entities are involved.
Time, Speed, and Distance: Candidates will be tested on their comprehension of concepts related to time, speed, and distance, often applied in solving problems involving travel or motion.
Geometry: This topic focuses on evaluating candidates' knowledge of various geometric shapes, angles, lines, and their properties.
CLAT 2024 General Knowledge and Current Affairs Syllabus
This section will cover the following important topics:
Static GK: Candidates will be tested on their knowledge of static or factual information related to various subjects, including history, geography, science, arts, culture, and more.
Current Affairs: This topic focuses on evaluating the candidate's understanding of recent events and developments, both national and international, across various domains such as politics, economy, sports, environment, and technology.
National and International Events: Questions related to significant national and international events, such as important milestones, treaties, agreements, and summits, will be included to gauge candidates' awareness.
Famous Personalities: This segment assesses candidates' knowledge of renowned personalities from different fields, including politics, literature, science, sports, and entertainment.