At first, it may appear to you that umbrellas are pretty simple, but when you get to know about their different types, you won't say that again. Umbrellas come in various types, each designed for specific purposes or to suit different weather conditions. So yeah, if you are looking forward to buying a new umbrella, then keep on reading to find out more about the different types of umbrellas, for rain and sunlight safety. Here we go.
1. Classic Straight Umbrellas
You know those straight umbrellas that kinda remind you of the old movies? Yup, that's them! They won't fold up on you, and they're as straightforward as it gets, a canopy, a handle, and a frame. If you don't care about the looks of the umbrella and don't want something fancy, then this type of umbrella will be a perfect fit for you.
2. Foldable Umbrellas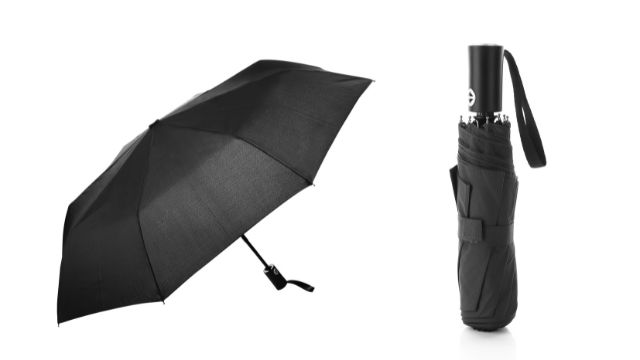 If you are always on the run then foldable umbrellas will be your new best friend. They vary from 2-fold, 3-fold, and all the way up to 5-fold. The 3-fold ones? Super popular, probably because they're just the right size. So next time there's a surprise downpour, you can just whip it out of your handbag or car's glove box. Easy peasy, right?
3. Mini Umbrellas
Ever thought, "I wish I had an umbrella, but where would I keep it?" Enter mini umbrellas. These ones slide right into your jacket pocket, perfect for those "I don't wanna lug around a big umbrella" days. With a coverage arc of 30 to 40 inches, they've got you covered, quite literally!
4. Automatic Open Umbrellas
You know those times when your hands are full of shopping bags, and suddenly, the skies decide to pour? Well, that's why automatic open umbrellas are super useful. Just hit a button, and boom! You're sheltered from the downpour. They can pop open on their own, or you can go old-school and open them manually. Trust us, when rain sneaks up on you, these umbrellas are a total game-changer.
5. Windproof/Storm Umbrellas
Are you currently living in places where the wind dances wild or typhoons love to visit? You'll wanna invest in a windproof umbrella. Built to laugh in the face of wind speeds up to 50 miles per hour, these ones make sure you're not only dry but also safe when Mother Nature's in a mood.
6. Golf Umbrellas
And if you are a true golf lover then this one's just for you! Golf umbrellas are crafted to have your back and you're clubs' too. Boasting a canopy that's a whopping 62 inches or more across, they promise enough coverage to keep your game strong, come rain or the sunniest of days.
7. Bubble Umbrellas
Alright, then there are bubble umbrellas, which are kinda cool if you ask us. If you wanna cover yourself entirely when it is raining outside, but you can't resist the urge to go outside, then these bubble umbrellas are perfect for you.
8. Kiddo Umbrellas
When it comes to giving an umbrella to your little one, they don't just accept the boring umbrella straight up. Nah. They always want something cool, or maybe their favorite cartoon character printed on it. That's why there are Kiddo umbrellas that come with a lot of design and color choices along with the poke-free design for the safety of your little one.
9. Men's And Women's Umbrellas
Well, these might look like decent and normal umbrellas at first, but they are designed to keep in mind the preferences of many men and women out there. If you just want a timeless, black, and handy pocket-sized umbrella for a casual outing or for whatever, then you've got to try out these unisex umbrellas.
Other Types Of Umbrellas
Along with these main types, there are a few others that you may spot around you at some point in your life. These include:
Wedding Umbrellas
Clear Umbrellas
Custom Umbrellas
Promotional Umbrellas
Inverted Umbrellas
Beach Umbrellas