The first mention of tartan (aka Scottish tartan) dates back to the 3rd century AD. In Scotland, there is even a special register, where all varieties of such fabric are included, and the number of species is more than 3 thousand. After all, each clan wove and still weaves its special pattern. And every year the tartan pattern becomes more and more popular. It has already become iconic, and designers are happy to use this pattern in their collections.
Scottish-style clothes are also loved by many celebrities and fashionistas. Princess of Wales Kate Middleton often appears in public in elegant tartan coats, dresses, and midi skirts. Tartan patterned cloth is generally a great option for both brunettes and blondes. Women with red hair can also wear tartan clothing to highlight their beauty. To make the choice of tartan outfit easier for you we have compiled some tartan outfit ideas below.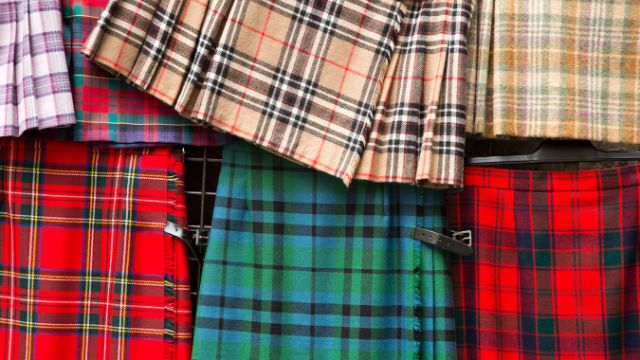 Tartan Skirt
This is a great option for creating a stylish bow. It is enough just to complement the plaid tartan skirt with a monochrome top. To do this, choose neutral-colored turtlenecks, white blouses, or black sweaters. You can also pick up a top in the tone of one of the colors of the tartan patterned skirt. Pair this combination with elegant over-the-knee boots or loafers.
Tartan Suit
Not everyone will dare to wear this statement and fashionable piece of clothing. But don't worry, it is easy to wear it and look elegant. Opt for a solid-colored top, shirt, or turtleneck under the jacket: the color of the top should match the tone of one of the colors of the suit. Pair the tartan suit with classic high-heeled pumps, ankle boots, loafers, or brogues. Add a small leather chain bag to your outfit. If you decide to wear a tartan suit with a white blouse and classic pumps, such an outfit will be perfect for an evening event. If a casino venue or party doesn't have a black-tie dress code, a tartan suit can be a great alternative to the cocktail dress. And wear a green plaid tartan pantsuit with loafers to look like a businesswoman.
Tartan Shirt
A tartan plaid shirt is a must-have for a real fashionista. But pay attention to the size of the print. A large plaid can give volume, so it is contraindicated for pudgy ladies. The ideal "partner" for such a shirt will be jeans, denim shorts, pants, or skirt. In the latter case, the top should be tucked in, and a thin belt should be added to the skirt. As a result, you will get a wonderful office image. With pants business, the look will turn out if you pair them with classic loafers or brogues. And if you decide on high-waisted jeans and sneakers, you will pull off a comfortable yet stylish casual look. By the way, you can wear a T-shirt or a T-shirt under the shirt, using it as outerwear.
Tartan Dress
If you are looking for a casual outfit, then choose a tartan dress with a white collar and cuffs. They will freshen up the look perfectly. If you prefer "midi" length, then a flared style will look better, while in short ones a straight cut is considered the most successful. A floor-length model with a loose-cut skirt looks great if there is an accent on the waist. To do this, you can use a thin sash. In the cold season, such a piece of clothing can be worn with a vest or knitted (but not too voluminous) cardigan.
Tartan clothing is a statement that you are up to date with fashion trends. It attracts attention, intrigues, and makes the image stylish and stylish. Haven't gotten your hands on one yet? Then hurry up and go shopping for a tartan outfit!