Switzerland, with its snow-capped peaks, pristine lakes, and charming alpine villages, is a haven for couples seeking a romantic getaway. The country's enchanting landscapes, combined with its rich cultural heritage, create an idyllic setting for love to flourish. Here, we explore the top 10 romantic destinations in Switzerland that promise to make your hearts beat in unison.
Zermatt:
Nestled at the foot of the iconic Matterhorn, Zermatt is a dreamlike destination that captures the essence of romance. The towering peaks, draped in snow, provide a breathtaking backdrop for couples seeking seclusion and natural beauty. Take a scenic train ride on the Gornergrat Railway for panoramic views of the Alps, or embark on a cozy horse-drawn carriage ride through the charming car-free streets of Zermatt. The village exudes a warm, intimate ambiance, with candlelit dinners in traditional Swiss chalets and the soothing sounds of nature as your soundtrack. To make your trip easier from India, you can book the Switzerland trip package from Delhi.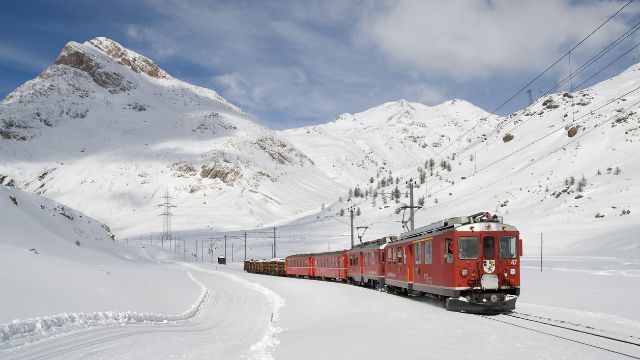 Interlaken:
Situated between Lake Thun and Lake Brienz, Interlaken is a gateway to the heart of the Bernese Oberland Alps. This picturesque town offers a perfect blend of romance and adventure. Couples can take a leisurely boat cruise on either lake, surrounded by the majesty of the Alps. The Höhematte Park, with its flower-filled meadows, provides a tranquil setting for a romantic picnic. For the more adventurous, paragliding over Interlaken offers a unique perspective of the stunning landscapes, creating memories that will last a lifetime.
Lucerne:
Lucerne, nestled on the shores of Lake Lucerne, is a city that effortlessly combines lakeside charm with historic allure. The Chapel Bridge, Water Tower, and the old-world architecture of the Old Town set the stage for a romantic journey through time. A sunset cruise on Lake Lucerne, with the surrounding mountains bathed in hues of pink and orange, is a magical experience. Couples can also take a cable car to the top of Mount Pilatus for panoramic views, or simply enjoy a leisurely stroll along the lake promenade, hand in hand.There are several packages available for the tour from India, one of the most popular is Kolkata to Switzerland tour packages for a beautiful and convenient getaway.
Montreux:
Montreux, situated on the shores of Lake Geneva, is a destination that appeals to the romantic soul. Famous for its annual jazz festival, Montreux exudes a cultural richness that complements its natural beauty. Couples can take a scenic cruise on Lake Geneva, surrounded by the vineyard-covered hillsides of Lavaux. The lakeside promenade, adorned with flowers, is perfect for a romantic evening stroll. Montreux's relaxed atmosphere, coupled with its jazz-infused charm, makes it an ideal spot for couples looking to unwind and savor the finer things in life.
Jungfraujoch:
For couples seeking a romantic adventure at high altitudes, Jungfraujoch, often referred to as the "Top of Europe," is an unparalleled destination. Accessible by a scenic train journey, this mountainous region offers breathtaking views of the Aletsch Glacier and the surrounding peaks. Couples can enjoy a private snowshoeing expedition or simply marvel at the beauty of the Ice Palace. The Sphinx Observatory provides an intimate setting for stargazing, making Jungfraujoch a celestial destination for lovers.
Lake Geneva:
Lake Geneva, one of Europe's largest freshwater lakes, is surrounded by picturesque towns and vineyard-covered hillsides. The city of Geneva, nestled at the western tip of the lake, provides a sophisticated urban setting for couples. Take a leisurely boat cruise on Lake Geneva, exploring its crystal-clear waters and enjoying the views of the Alps. The city's well-manicured parks, such as Parc des Bastions, offer a serene environment for romantic strolls. With its combination of cultural richness and lakeside elegance, Lake Geneva provides an idyllic backdrop for a romantic escape.
Lauterbrunnen:
Nestled in the Lauterbrunnen Valley, this Swiss gem is a haven for nature lovers and couples seeking tranquility. Lauterbrunnen is renowned for its 72 waterfalls, creating a magical atmosphere that's perfect for romance. The Staubbach Falls, plunging dramatically from the cliffs, set the stage for an enchanting experience. Couples can embark on scenic walks through the valley or take a cable car to the charming mountain village of Wengen. Lauterbrunnen's natural beauty, with its cascading waterfalls and lush greenery, offers a romantic escape into the heart of the Swiss Alps.
St. Moritz:
St. Moritz, nestled in the Engadin Valley, is synonymous with winter luxury and alpine glamour. This destination transforms into a snowy wonderland during the winter months, offering couples a chance to indulge in a fairytale-like experience. Glide hand in hand across the frozen Lake St. Moritz or take a horse-drawn carriage ride through the snow-covered landscapes. The town's upscale boutiques, gourmet restaurants, and world-class spas add an element of sophistication to this alpine retreat. St. Moritz's combination of winter sports, refined elegance, and mountain vistas make it a premier destination for couples seeking a luxurious and romantic escape.
Wengen:
Nestled on a sunny terrace above the Lauterbrunnen Valley, Wengen is a charming car-free village that exudes romance. Surrounded by the Eiger, Mönch, and Jungfrau mountains, Wengen offers breathtaking views and a tranquil atmosphere. Couples can explore the village's narrow streets, lined with wooden chalets adorned with vibrant flowers. Take a scenic train ride to Jungfraujoch or embark on a hike through the alpine meadows. Wengen's serene ambiance and intimate charm make it an ideal hideaway for couples seeking a peaceful and romantic alpine retreat.
Lake Thun:
Lake Thun, situated in the Bernese Oberland, is a serene destination that combines the beauty of the lake with the surrounding mountain vistas. The historic town of Thun, located on the northern shore, provides a romantic setting with its medieval castle and charming old town. Couples can take a leisurely boat cruise on Lake Thun, soaking in the tranquility of the surroundings. The nearby vineyards and the Niederhorn mountain offer opportunities for scenic walks and panoramic views. Lake Thun's gentle beauty and the historic charm of Thun create an intimate atmosphere, making it an ideal destination for couples seeking lakeside serenity.