Tirana is a city that pulsates with life, history, and — yes, you guessed it — art! Often overlooked in the grand European travel itinerary, Tirana is a hidden gem sparkling with stories of resilience, triumph, and relentless spirit.
As the heart of Albania, Tirana's bustling streets, lively squares, and the omnipresent art scene mirror the city's rich history and undying character.
Ready to dive in? Let's uncover this world of color together in our guide to must-see museums in Tirana.
Prepare for a Day of Exploration in Tirana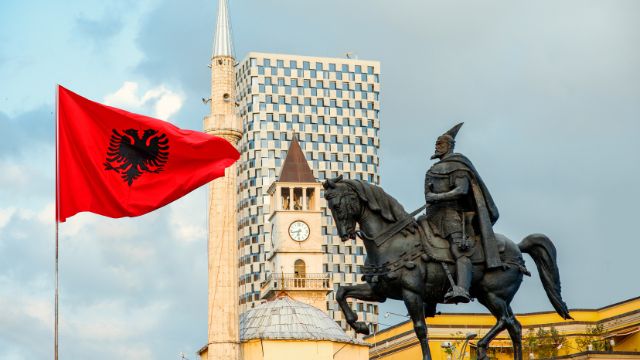 If you're the kind who hits the snooze button, you might want to reconsider. A day in Tirana demands an early start, especially if art is on the agenda. Start by packing light. Maybe bring a small backpack with essentials, like sunscreen, a camera, water, and a snack.
Lugging a heavy bag is a no-no when there's so much to explore, especially given that many museums don't allow large bags! That's where luggage storage Tirana services come in as a savior for all art explorers. Drop off those bulky bags and feel the freedom of roaming unburdened.
Oh, and don't forget comfy shoes. Your feet will thank you later!
Bunk'Art 1
History buffs, you're in for a treat! Enter Bunk'Art 1, a relic of a bygone era with a twist. Initially built to protect Albania's top communist brass from potential nuclear threats, this vast underground bunker has been transformed into a realm of art and history.
Meandering through its corridors, you're taken on a journey from Albania's dark communist days to its present aspirations. If Tirana's summer heat is getting to you, Bunk'Art 1 offers a naturally cool respite. Where else can you escape heatwaves and dive into history at the same time?
Muzeu Historik Kombëtar (National History Museum)
Hop onto a time machine (or a bus) and land at the steps of the Muzeu Historik Kombëtar, the keeper of Albania's tales from time immemorial. This building tells the story of a nation's journey from the ancient Illyrians to the hustle and bustle of modern-day Albania.
Before stepping in, take a moment to admire the museum's façade, a grand mosaic that portrays the nation's history in vibrant tiles. Don't rush, and know that it's more than okay to take a selfie (or ten) here. From ancient pottery to wartime relics, each exhibit whispers secrets of the past, so tune in!
House of Leaves (Shtëpia e Gjetheve)
Tucked away in the leafy streets of Tirana is the mysterious House of Leaves. It sounds like something out of a fairy tale, doesn't it? Unfortunately, its history is a bit darker.
This former surveillance center from the communist era stands as a stark reminder of the country's haunting past.
Once buzzing with secrets and whispers, this room now showcases relics of a time when privacy was a luxury few could afford. Still, don't let the somber history deter you. The museum's setting is gorgeous, draped in green and bathed in sunlight. It's a beautiful contrast, like a rose growing amidst thorns.
Komiteti Kafe Muzeum
Art isn't confined to hallowed halls or old bunkers! Enter Komiteti Kafe Muzeum, a delightful blend of a café and a museum. Nestled in the heart of Tirana, it's where culture meets caffeine.
Each nook and cranny tells a tale; antiques casually lie beside modern gadgets, and old photos grace the walls. As you sip on your coffee, or if you're feeling adventurous, a shot of traditional raki, you'll find yourself immersed in a unique cultural experience.
Quick Bites & Refreshments in Tirana
Now, anyone who's done a decent bit of traveling knows that a city reveals its soul through its cuisine just as much as its art. Luckily, Tirana's culinary game is strong! Feeling ravenous after a deep dive into art?
Head to Oda, a cozy spot oozing authenticity, where traditional Albanian dishes are served with a side of love. If your palate leans toward the international, Nouvelle Vague is where you want to be — a melting pot of flavors from around the globe.
For those moments when you want a chic ambiance to match the art you've soaked in, Charl's Bistro awaits. Here, every dish is a masterpiece in its own right!
Tirana's Curtain Call: An Artful Adieu
Tirana isn't just a city; it's an experience, a vibrant canvas painted with tales of old and visions of the future. With every alley you explored, every painting you marveled at, and every bite you took, you became a small part of its story.
As you prepare to bid adieu, remember that art isn't confined to frames or museum walls. It's alive in the laughter of the streets, the aroma of freshly brewed coffee, and the twinkle in the eyes of every Tiranian you met.