Well, you agree or not, but there are some ice cream brands offer objectively better tasting flavours than others, right? Well, that is why we are here with a list of the 10 most popular ice cream flavors in India. And if you are here just for that, then let's get going.
Famous Ice Cream Flavors In India
1. Strawberry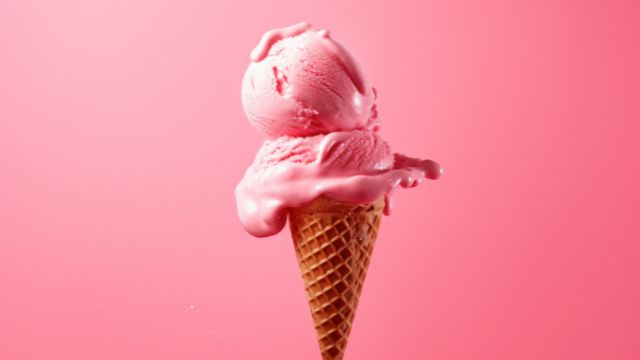 Yeah, we know, you may have not expected strawberry flavor so high up on this list, right? Well, believe it or not, strawberry-flavored ice cream single-handedly has won the hearts of millions in the country. From its iconic pinkish-red look to the mesmerizing sweetness and a hint of tartness, it is no wonder why it is that popular. And if you were avoiding this flavor up until now (but who does that?) then you should definitely give it a shot.
2. Chocolate Chip
Now, Chocolate Chip flavored ice cream is only popular because kids are literally head over heels for this flavor. Maybe the mixed chocolate chip in the ice cream excites them, or it could be just the taste. But yeah, definitely, chocolate chips are one of the most popular ice cream flavors in India.
3. Vanilla
Vanilla is one of those ice cream flavors that will never go old or boring as a flavor. That's not happening anytime soon. And it is not just one of the best ice cream flavors in India, but people all over the world love it. After all, the ice cream base just tastes better with that dash of vanilla essence.
4. Chocolate
Well, as you may already know, the most favorite ice cream flavor for kids is chocolate, right? And some of us, the adult kids also love it too. Don't we? Well, that's pretty hard to deny, right? And you'd totally agree that it is pretty hard to resist when the bowl of chocolate ice cream is sitting right in front of you. Right? Well, that's the magic of chocolate flavor.
5. Mango
Since we are talking about the best ice cream flavors in India, we must not ignore the Mango flavor at any cost. After all, mango is called the king of all fruits for a reason, and that is precisely because of its heavenly taste. And when that unique but aromatic taste of mango is mixed into the creamy goodness of ice cream, it is simply stunning, not just in terms of looks, but taste as well.
6. Coconut
Now, coconut ice cream isn't that common in the country, but whoever has taken a bite, has become a fan for like, forever. Many say that the flavor of tiny coconut bits just tastes better with the creamy goodness of ice cream.
7. Butterscotch
Compared to all the other ice cream flavors on this list, butterscotch may be the most underrated one here. And you must try it if you are a true ice cream lover. Butterscotch has a blend of butter and sugar (brown sugar, in most cases) which gives it that unique flavor. It is not like other ice cream flavors because it doesn't take over the taste of the base, but instead, it mixes in perfectly.
8. Coffee
The name of this flavor is pretty much giving it away, just like the chocolate flavor, here you get the coffee mixed in ice cream. Which in reality just tastes better. So yeah, if you are a coffee lover, you've got to try this one.
9. Kesar Pista
There once was a time when Kesar Pista was so high up on this list, but since there are so many flavors available that's its popularity faded away. However, Kesar Pista flavor ice cream certainly has a loyal fan base because its sales in India are pretty constant.
10. Blueberry
If you are all about those fruity ice creams then, you must try the blueberry ice cream because it is just perfectly made, and has everything that you'd expect from a fruity ice cream. The bright color and sweet and tangy flavor profile will just make you fall in love with this flavor.